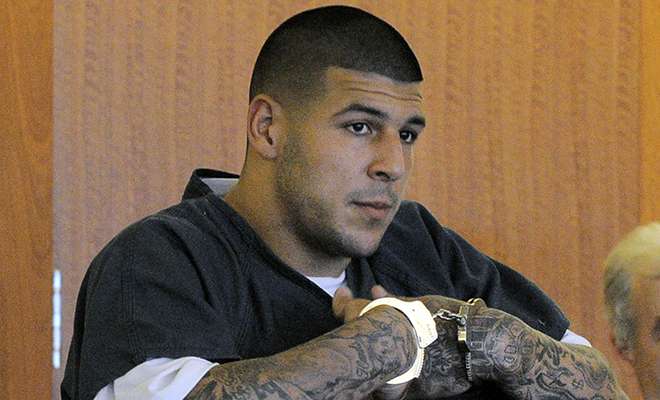 Aaron Hernandez — the ex-NFL player who may or may not have killed someone (and who may or may not have started the "Hernandezing" meme) — is currently sitting behind bars while he awaits trial for murder, but according to TMZ, he was able to celebrate Thanksgiving yesterday with at least "SOME of the trimmings."
Hernandez's Thanksgiving Day meal consisted of five ounces of turkey, mashed potatoes, mixed veggies and some fruit punch to wash it all down. Oh, and for desert, he got ONE slice of pumpkin bread. Yummy. (Not.)
In related news, a former Massachusetts Superior Court Judge believes that Hernandez could very well walk away a free man.
According to MyFOXBoston.com, Isaac Borenstein — who is now a law professor — pointed out that Hernandez's case is already a complicated one, and the fact that, there are no witnesses (other than those involved with the crime) could make things even that much more difficult for prosecutors to prove beyond reasonable doubt that Hernandez is a murderer.
"As a prosecutor I think they have a tough time sorting out exactly what was Aaron Hernandez's role, what is the role of the other people, and how are they going to come across as witnesses," said Borenstein. "I would not be shocked if this verdict went a way that didn't necessarily looked like at this point. It's the way the justice system work."
Charged with first-degree murder, Aaron Hernandez is being held without bail at the Bristol County House of Correction in Dourtmouth, MA for the murder of his former friend Odin Lloyd. He and two other men (Carlos Ortiz and Ernest Wallace) were taken into custody in late June for their alleged connections to Lloyd's killing.
Hernandez was indicted on the first degree murder charge in August, and he plead not guilty to the murder in early September. If convicted, he faces life in prison without the possibility of parole.
Be the first to receive breaking news alerts and more stories like this by subscribing to our mailing list.