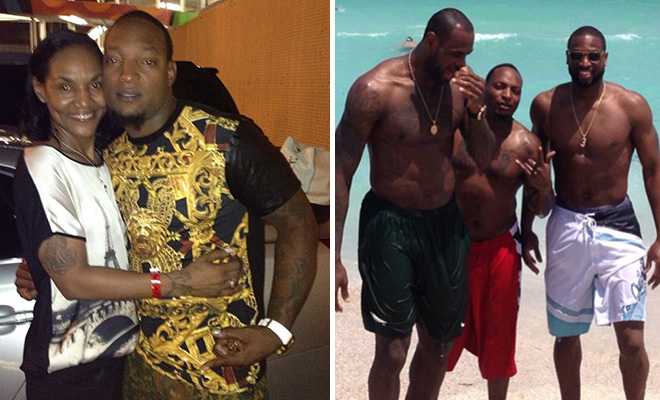 How would you feel if a man who is just two years older than you had the potential to become your step-father?
That's the type of thing LeBron James (who turns 29 this December) is dealing with right now, because his ratchet behind mama is bumping uglies with a 31-year-old Miami-based rapper named "Lambo."
Not just "ANY" Lambo … but "DA REAL" Lambo.
It's bad enough people were speculating years ago that Ms. Gloria James — who is 45 years old — was smashing the teammates, but now she's gone and pretty much confirmed that she likes 'em young. REAL YOUNG. Almost TOO YOUNG.
But anyway, back to this "Lambo" character, who (from the looks of his own Instagram account) appears to be a HUGE LeBron James fan, which is pretty awkward considering the fact that he's dating the guy's mother.
In addition to the obvious pictures of him and Gloria, whom he affectionately calls "wifey," there are photos of him on private jets and yachts, sitting courtside at the Finals game (just as Ray Allen made "that" shot), wearing one of LeBron's championship rings, posing with exclusive LeBron sneakers, and many many more; honestly, too many to succinctly list.
The point is … this guy is way too much of a fan and he isn't shy about showing it off.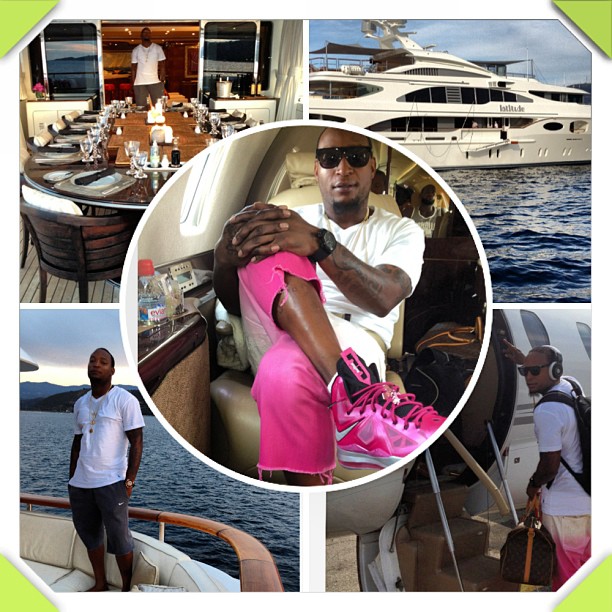 Take this particular image for example, and the caption he wrote to go along with it: "I Neva had a role model until I met @kingjames Thanks Big Homie Life is about being positive"
So now we're calling our girlfriend's son a role model and a "big homie" too? #WHERETHEYDOTHATAT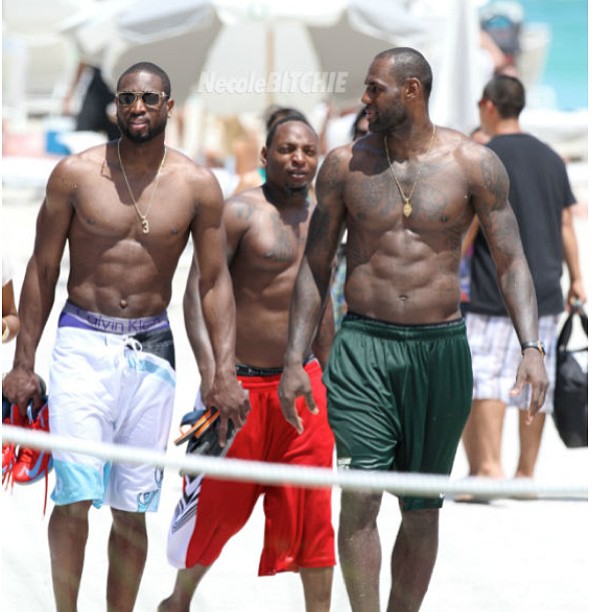 Then there's this one picture, of him sandwiched in between LeBron and Dwyane Wade. Its caption? "if I played for the heat this will be the big 3"
WOW. It's one thing to be a male groupie, but when you're stanning for your own possible future step-son … now, that's just plain creepy.
Of course Twitter has some hilarious thoughts on LeBron's new "stepdaddy":
If your name is Da Real Lambo and you don't own a Lambo, you gotta stop trying to hit on my mom

— 3030 (@jose3030) September 3, 2013
i get the feeling a lot of you are reevaluating your stepdaddies in the wake of this lambo thing. your stepdaddy named lambo?

— Bomani Jones (@bomani_jones) September 3, 2013
And this post would not be complete if we did not include Da Real Lambo's one and only rap video:
So now when you wake up every day and start to complain about your life, remember, at least your mom isn't having sex with some guy who raps and isn't too much older than you named "Da Real Lambo."
CHECK OUT ALL THE PICS WE ROUNDED UP FROM DA REAL LAMBO'S INSTAGRAM ACCOUNT HERE:
[H/T: Bleacher Report]
Be the first to receive breaking news alerts and more stories like this by subscribing to our mailing list.