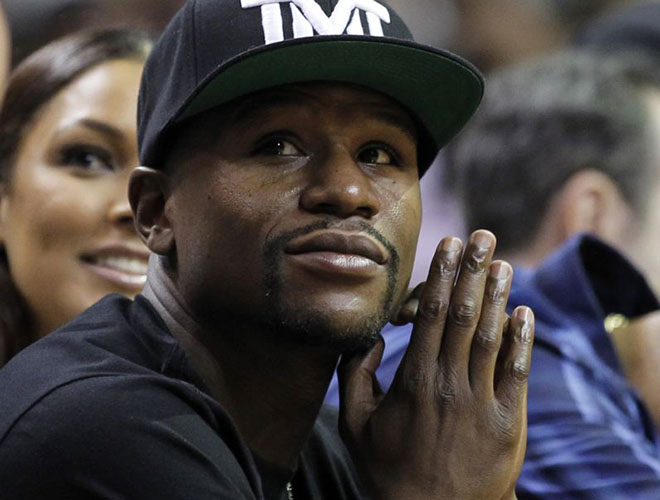 According to a Twitter account called "Vegas Gambling Steam," the word on the curb is that Floyd Mayweather Jr. is putting nearly $5.9 million on the Miami Heat to win tonight's Game 7 match-up against the Indiana Pacers.
**ALERT** Good source from my #HeavyHitters Vegas crew alerted me that Floyd Mayweather has laid over $5,900,000 on Heat -7 tonight in Vegas

— Vegas Gambling Steam (@Pregame_Steam) June 3, 2013
If you've been following the 2013 NBA playoffs, you'll know that it has been a back-and-forth battle between the Heat and the Pacers — the Heat took the first win, the Pacers took the second, the Heat won the third, and the Pacers won the fourth, the Heat won Game 5 and then the Pacers won Game 6 Saturday night (Jun 1).
Based on the pattern, the Heat should win the next game, but then again, the Pacers could ruin the pattern and win tonight's game.
So it could go either way, but apparently "Money Mayweather" isn't worried about all of that, as he is confident that LeBron James and Co. will pull through to win the 7-game series tonight. (Probably even more confident than the Heat themselves, because $6 million is a HELLUVA lot of money!)
Of course there is no way of telling whether or not the tweet is true, and Yahoo! Sports was unable to contact Mayweather or his people to verify it, but the pro boxer is known for his pricey bets — though, once again, $6 million is A LOT.
More from Yahoo! Sports:
Mayweather frequently tweets photos of his betting slips. Usually, but not always, the tweets are of winning tickets. In a fascinating Sept. 12, 2012, story on Grantland.com, writer Dermot Hunt noted that between August 2010 and February 2012, Mayweather tweeted photos of 46 betting slips totaling nearly $3.9 million in wagers. According to Hunt's record-keeping, Mayweather won all 46, making a profit of $3,938,722.87.

If Mayweather did make the bet on the Heat and he won, he'd earn a profit of $6.49 million. Several persons connected with Las Vegas sports books who did not want their names used said they think it unlikely Mayweather made such a monster wager. Significantly, though, none of them would completely rule it out as a fabrication.

Lorenzo Fertitta, whose family owns Station Casinos in Las Vegas, wouldn't totally rule out the large wager.

"That would surprise me [he got down such a big bet in Las Vegas], but you never know," Fertitta told Yahoo! Sports.

One Las Vegas sports book director, speaking on condition of anonymity, said he doubted Mayweather's ability to bet that much on one game in the city.

"I don't [think it's true]," the bookmaker said of the huge bet. "The only place that gave him sizeable wagers was Cantor [Gaming] and I've heard they cut many players way back. I don't think if he bet that at every book in town he could get that much, and we haven't taken anything here."