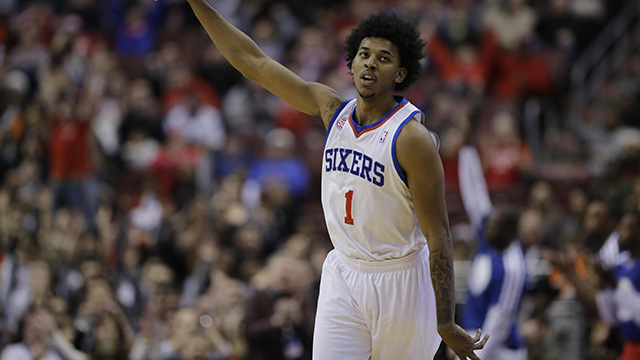 NBA player Nick Young has been accused in a lawsuit of drugging and raping a woman following an encounter two years ago at a Hollywood bar, but the Philadelphia 76ers shooting guard says, it wasn't me.
According to TMZ reports, a woman recently filed a lawsuit claiming that back in 2011, after she met Nick at Crown Bar in West Hollywood back in 2011, he slipped a date rape drug into her drink, then took her to his home where she alleges he "raped her vaginally and anally."
It's worth noting that the woman's lawsuit is a civil one, and not criminal, and TMZ says shortly after the alleged incident, she went to the LAPD and they basically told her, "Ain't nobody got time for dat."
The gossip site is reporting that the LAPD told them that the woman's story made absolutely no sense, and not only that, but while she was crying rape to the cops, she was already cooking up a lawsuit (apparently this one?), and that made them give her the side-eye even more.
And get this … the woman has also made financial demands on Nick, telling him to either "pay up or face a lawsuit." And obviously he didn't pay up, so here we are.
In response to the unwarranted media attention Young has no doubt been receiving, the basketball player took to his Instagram this week to deny the allegations, using a line from Tupac, along with a photo of the deceased rapper.
"Don't believe everything you hear. Real Eyes. Realize. Real Lies."
He later added:
"I was shocked with the amount of people who actually believed that Swaggy would do such a thing! I take my craft and my reputation seriously. I have a son that looks up to me as well as fans that are children. I would never want them to think of me in such a way. I learned that God has a way of showing things: Who my real friends are, who I can trust and who has my best interest. So to my family, friends, coaches, teammates and fans that supported me through this challenging time I want to say thank you for believing in me. Your support and prayer means the world to me. At this I want to say God is everything so keep yo faith, keep smiling and swagging on these haters."
Nick has since deleted the messages, probably at the advice of his attorneys, since, you know, "legal stuff," and considering the seriousness of the matter, he probably should have just waited until everything went through the courts before speaking publicly about it.
Regardless, Young seems pretty confident that the truth will indeed come out, and his name will officially be cleared. Folks lost their minds over Rick Ross alluding to date-raping a woman in a rap song, so you know Nick Young will be burned at the stake if this turned out to be true. Hopefully it's not…but we'll find out once it all plays out in court.
[H/T: Fansided]
Be the first to receive breaking news alerts and more stories like this by subscribing to our mailing list.