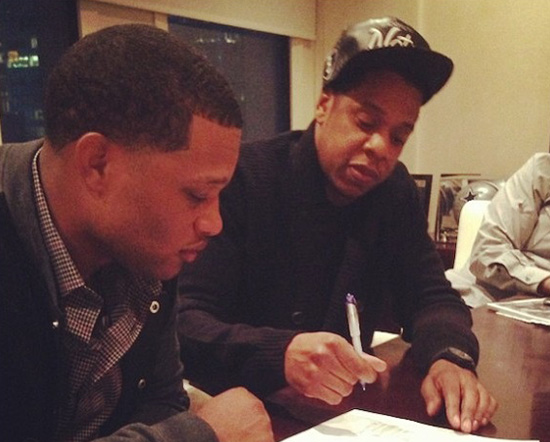 Hip Hop Mogul Shawn "Jay-Z" Carter is officially a sports agent, signing his first client, Robinson Cano of the New York Yankees.
In 2008, Jay-Z founded "Roc Nation," the entertainment company, and he is now launching Roc Nation Sports, a full-service sports management company which will partner with another agency, "Creative Artists," to represent Cano.
Cano, who was once signed to agent Scott Boras, became a free agent at the end of this baseball season, which makes him eligible to sign with any team.
"At this point in my career, I am ready to take a more active role in my endeavors both on and off the field," Cano said in a statement. "I am confident that the pairing of Roc Nation Sports & CAA Sports will be essential in helping me accomplish my short- & long-term goals."
His expected nine-figure contract will not only be a great deal for Cano but will also be a great deal for his new agency Roc Nation Sports.
Roc Nation has encompassed the music industry, managing artists, songwriters, producers and engineers.
It also deals with publishing, touring and merchandising, and it is meant to replace the now defunct music label, Roc-A-Fella Records, which was founded by Jay-Z and his former business partner Damon "Dame" Dash.
"Because of my love of sports, it was a natural progression to form a company where we can help top athletes in various sports the same way we have been helping artists in the music industry for years," Jay-Z said in a statement.
It's said that Victor Cruz, who just so happens to be good friends with Jay-Z, will be the next athlete to sign with Roc Nation Sports.
Be the first to receive breaking news alerts and more stories like this by subscribing to our mailing list.