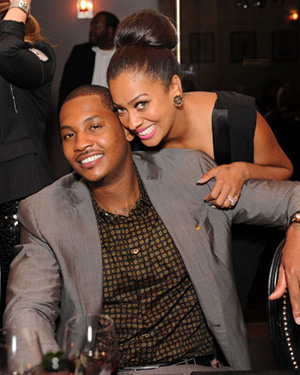 After a brief hiatus, the Anthonys are back together and plan to live large.
Quoting an anonymous source, the NY Post is reporting that Carmelo Anthony and his wife Lala have kissed and made up, and are moving into an exclusive apartment together in the Fifth Avenue "Museum Mile" area of New York City.
According to the Post's sources, the duo just signed a $20,000 lease on the 4,022 square foot pad, which features five bedrooms and four bathrooms, 10 foot ceilings and spectacular views of Central Park. Sources say the pad is owned by Bank of America exec Fares Noujaim, who bought it for $6.08 million.
"The couple are in the process of moving in now," a source said. "Although they were going through a rough patch, they have worked things out and have fully reconciled."
Fightin' Words: Kevin Garnett Whispers to Carmelo Anthony that His Wife LaLa Tastes Like Honey Nut Cheerios?
Back in January it was reported that the couple were living on separate coasts after NY Knicks star Melo, and the Celtics' own Kevin Garnett had a pretty disrespectful exchange of words while on the court in in the middle of a game — mostly from Garnett, who allegedly whispered into Melo's ear that his wife "tastes like Honey Nut Cheerios."
No one ever really confirmed whether or not Garnett actually said that (or if Lala really does taste like Honey Nut Cheerios) … but now that Carmelo and Lala have put that schoolyard drama behind them, it looks like they are now able to live comfortably on the same coast, right in the heart of NYC.
Glad to hear that Melo and LaLa are back together!
Be the first to receive breaking news alerts and more stories like this by subscribing to our mailing list.