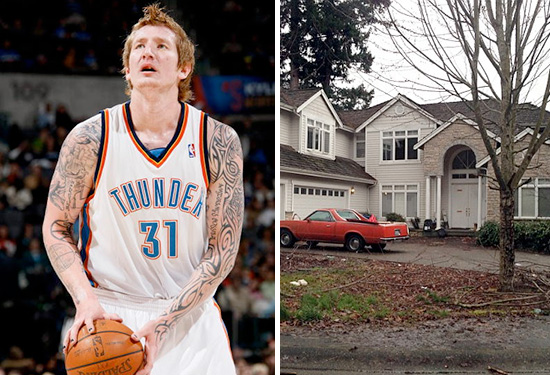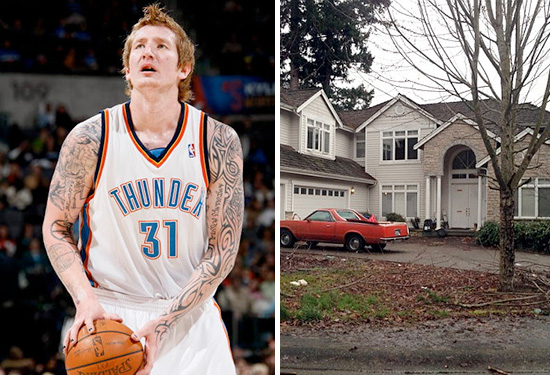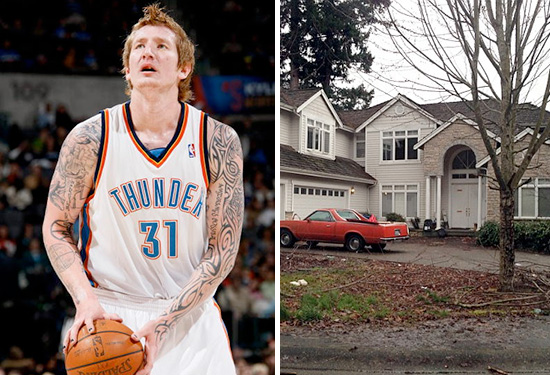 Robert Swift was the man years ago when he was acquired by the Seattle SuperSonics (now the Oklahoma City Thunder) straight out of high school … but now, it looks like things aren't going so well for Swift, who was found last month squatting in his former home in Sammamish, Washington — outside Seattle.
Apparently, the home had been foreclosed on as of last summer, and Swift refused to vacate the premises until last weekend.
Eric Dalzell and his wife Jessica Ko bought Swift's home a few months ago, and couldn't move in until he moved out, but when he finally did … they were shocked when they recently entered the home and saw just how disgusting the house was.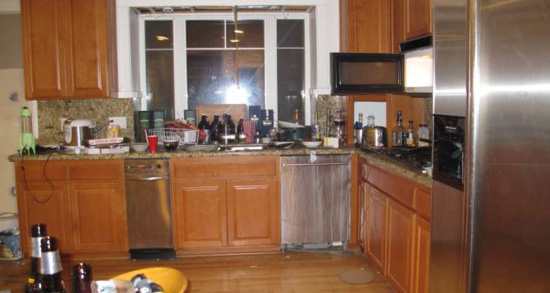 The entire deck behind the property was covered in dog feces, the kitchen was littered with empty takeout boxes and bottles of liquor, and the basement had been turned into a makeshift shooting range, and was riddled with bullet holes.
The walls in the home had huge gaping holes — most likely from someone punching them or hitting them with heavy objects — and an unpleasant odor reeked throughout the 6,240 square foot house. The bathrooms looked like they hadn't been touched in months.
"The first thing you get when you walk in the door is the kind of whiff of whatever is festering in here," Jessica Ko told KOMO.
The outside wasn't any better either. There, empty Budweiser, Four Loko and Coors cans were strewn about, and several cars parked in the yard looked like they hadn't been moved in some time.
A sad story overall, and believe it or not, it gets even sadder from there. Swift apparently left all of his personal possessions behind, even the things that must have been important to him at some point.
The home's new owners found signed memorabilia, framed pictures, and a box of old letters and scholarship offers that were addressed to Swift from big universities like UCLA, Kentucky and Kansas from when he was in high school and being scouted by colleges.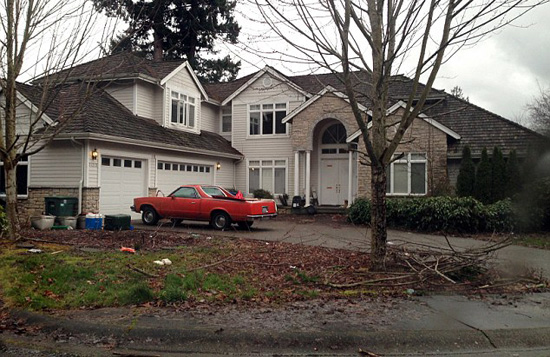 Swift purchased the large four bedroom, four and a half bathroom house for $1.35 million in 2006, but the new owners purchased it earlier this year for just half that amount. It will take a few months before the home is move-in ready.
Before he fell on hard times, Swift played basketball in Seattle with the Super Sonics when he was drafted in 2004 before the team moved to Oklahoma as the Thunder, where he played until 2009.
After Swift was dropped from the Thunder, he was offered a D-League assignment, which he refused, then he played in Japan for a little while. The 27-year-old made over $10 million during his basketball career.
Since he left the home, Swift's whereabouts are currently unknown, but those who are close to him are worried for his mental well-being after months of living in squalid conditions.
LOOK BELOW FOR MORE PHOTOS OF ROBERTS SWIFT'S FORMER HOME AT ITS WORST:
Photos: Daily Mail
Be the first to receive breaking news alerts and more stories like this by subscribing to our mailing list.