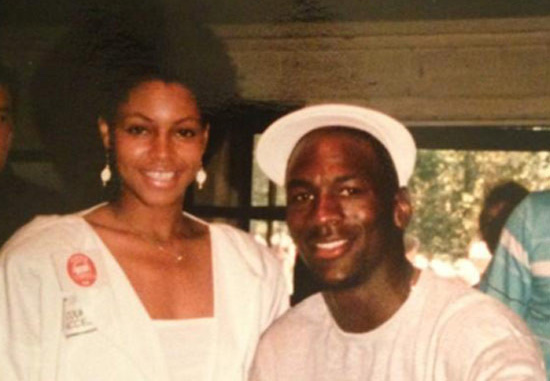 A Georgia woman is suing Michael Jordan for child support on claims that her 16-year-old son is the product of her previous relationship with the NBA legend in 1995 when he was still married to his now ex-wife Juanita Vanoy.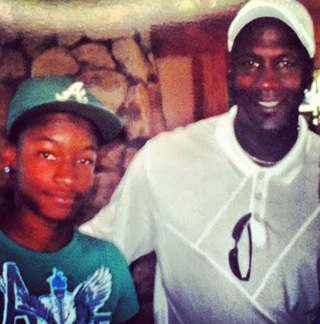 According to TMZ, in a suit filed on February 6th, Pamela Smith said that she "welcomes" a paternity test to prove that Jordan is the father of her son Grant Pierce Jordan Reynolds, whose nickname is Taj and was born in June 1996.
Smith also adds in her suit that she would like Taj's legal last name changed to "Jordan," and she wants MJ to pay for Taj's medical expenses.
The suit comes at a "perfect" time for MJ too, as he is set to marry his fiancée Yvette Prieto next month.
For some time, rumors have been floating around that Jordan has a "secret love child" that lives in the Atlanta area, and last Christmas, the net was buzzing after a 16-year-old kid named Taj posted a video on YouTube claiming that the Michael Jordan was his father.
In the video, Taj — a self-proclaimed Hip Hop artist with over 40,000 Twitter followers — claims that his mom had an affair with Michael Jordan a while back, and that until recently, she had kept it a secret that Jordan was his father.
When Taj found out his daddy was actually basketball legend Michael Jordan, he begged his mom to to make his alleged father step up to the plate, according to another TMZ report:
Sources close to Smith tell TMZ that she's always had a good relationship with Michael and doesn't need the money to support herself.

But we're told her son — Grant Reynolds (a.k.a Taj) — desperately wants MJ to acknowledge him as his son, so HE begged his mom to file the docs.

We're told Pamela's intention was never to "call Michael out" — the lawsuit is simply so her 16-year-old son can have his real (alleged) father be a bigger part of his life.

In fact, we're told Michael and Grant have met a few times over the years and Pamela claims Michael has given the family money and gifts here and there … but Grant always had to keep it a secret.
Now, apparently, Taj wants the whole world to know that his daddy is Michael Jordan. And who can blame him? If Michael Jordan were your father, you would want everyone to know too, wouldn't you? I know I would.
Me to stranger: "Hey, you! I don't know you, and you don't know me. But I'm sure you know my father. His name is Michael Jordan. Yes, THE Michael Jordan. The one with the bald head, that left earring and all of those millions. Yup, that's my dad. Jealous? Don't worry, I would be too."
Be the first to receive breaking news alerts and more stories like this by subscribing to our mailing list.