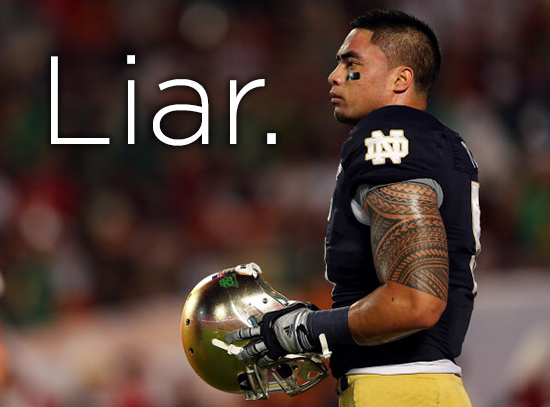 The Internet and media world freaking exploded last night when Gawker Media's Deadspin scored the journalistic coup of a lifetime in its extensive report about Notre Dame Linebacker Manti Te'o's "dead" girlfriend Lennay Kekua was fake. Made up. A hoax.
For the past year, Te'o has repeated variations of his story about losing his grandmother and his girlfriend within hours of each on the same day. ESPN, CBS Sports, Sports Illustrated and the South Bend Tribune were among the MANY media outlets who failed to do thorough background checks on the story. Instead, they relied on the testimony of Te'o and his father, Brian Te'o.
In response to this alarming news, Te'o and the University of Notre Dame have both released statements saying that Te'o had no idea that Kekua was fake. Te'o claims he was the victim of a "Catfish," which is a term linked to a documentary and MTV show that tracks down Internet posers who engage in fraudulent relationships with people online.
You can read Te'o and the university's staements here if you're interested.
But here's the thing: Te'o's version of events doesn't answer the damning evidence that Deadspin has compiled.
First, the story of Te'o never meeting Kekua is not the story that was told in the media. The South Bend Tribune painted a breathless encounter outside of a Palo Alto football game that sounded like it was straight out of Dawson's Creek.
It never felt like a chance meeting, although it probably appeared that way from the outside looking in.

Their stares got pleasantly tangled, then Manti Te'o extended his hand to the stranger with a warm smile and soulful eyes.

They could have just as easily brushed past each other and into separate sunsets. Te'o had plenty to preoccupy himself that November weekend in Palo Alto, Calif., back in 2009.
Te'o NEVER challenged this version of events at all. If he never met (or even Skyped with her), how the hell did he and his family let this version of events become such a popular story?
Second, the links between Te'o and Ronaiah Tuiasosopo, the alleged perpetrator behind the made-up Kekua identity, are hard to deny.
From Deadspin's extensive story:
Te'o and Tuiasosopo definitely know each other. In May 2012, Te'o was retweeting Tuiasosopo, who had mentioned going to Hawaii. Wrote Te'o, "sole"—"bro," in Samoan—"u gotta come down."

In June, Te'o wished Tuiasosopo a happy birthday. How they know each other isn't clear. We spoke to a woman we'll call Frieda, who had suggested on Twitter back in December that there was something fishy about Lennay Kekua. She was Facebook friends with Titus Tuiasosopo, so we asked her if she knew anything about Ronaiah.

"Manti and Ronaiah are family," she said, "or at least family friends." She told us that the Tuiasosopos had been on-field guests (of Te'o or someone else, she didn't know) for the Nov. 24 Notre Dame-USC game in Los Angeles.

USC was unable to confirm this, but a tweet from Tuiasosopo's since-deleted account suggests he and Te'o did see each other on that West Coast trip. "Great night with my bro @MTeo_5! #Heisman #574L," Ronaiah tweeted on Nov. 23, the night before the game.
Yeah. This, along with the fact that Te'o interacted with a fake Twitter account that claimed to be Kekua's sister and then went back and DELETED his interactions with her reek of someone who was in on the lie from the jump.
Manti Te'o wants to protect his legacy, but at this point, it's way, way too late for that. He needs to do like John Edwards and Lance Armstrong did and are doing now: Come clean. Throwing lies on top of more lies is no way to get out of this situation.
The implausibility of a young football player carrying an exclusively long-distance relationship with a "girlfriend" he's never met or even video chatted with, who then dies and conveniently tells him NOT to attend her funeral is simply too much of a horseshit pill to swallow.
Consider this a bet: Manti Te'o is not telling us the whole truth and there will be more tears and apologies to come from him soon. Deadspin did its homework on this one and too many signs are pointing right back at Te'o for us to believe his sob story.
And we aren't the only ones, Jemele Hill of ESPN and Jeff Darlington of the NFL Network have their doubts as well:
Sorry, my spidey senses aren't completely buying Manti Te'o's side of the story.

— Jemele Hill (@jemelehill) January 17, 2013
So he never met her. He knew her so well she could pull off this hoax. And he didn't attend her funeral. But he was in love? Ok. Got it.

— Jeff Darlington (@JeffDarlington) January 17, 2013
Do you believe Manti Te'o?
Be the first to receive breaking news alerts and more stories like this by subscribing to our mailing list.