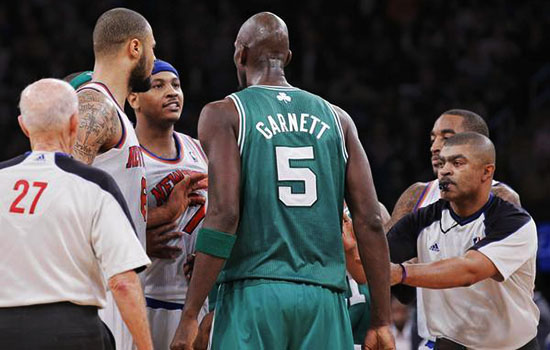 In perhaps one of the strangest stories to emerge from NBA this season, Carmelo Anthony of the New York Knicks got into an altercation of sorts with Kevin Garnett of the Boston Celtics Monday night (Jan 7) in New York City after the Celtics beat the Knicks 102-96. Which seems pretty normal on the outside, but it's the (alleged & unconfirmed) details that make the whole situation very strange, to say the least.
Apparently, Anthony and Garnett had been going at it all game, but the hostility between the two NBA stars came to a serious head when the players got into a shouting match with each other on the court after a particularly physical possession in the fourth quarter. (Video footage below)
As you can see in the clip, Carmelo was pretty pissed, though about what remains unclear. There are numerous reports floating around that KG whispered into Melo's ear that wife LaLa Anthony "tastes like Honey Nut Cheerios," but neither Kevin nor Carmelo are confirming exactly what was said, if anything.
Both players were served with double technicals, and at the end of the game, Anthony is rumored to have went straight to the Celtics locker room to wait for Garnett.
According to ESPN:
After the game, Anthony angrily walked off the floor and out of the tunnel that visiting teams use to exit the floor, instead of exiting out of the Knicks' tunnel. Tyson Chandler appeared to try to stop Anthony, but he blew by the Knicks center. According to one of the sources with knowledge of the incident, Anthony approached the Celtics' locker room and was screaming. It is unclear whether his ire at the time was directed at Garnett.
And that was only the beginning of the night's activities. The squabble between Carmelo Anthony and Kevin Garnett eventually spilled over to the garage below Madison Square Garden, where Carmelo reportedly waited outside the Celtics' tour bus to confront Kevin once again.
TMZ acquired video footage (see below) that shows the basketball stars screaming back and forth at each other, clearly looking for a fight, as MSG security and police struggle to keep the big guys apart (FYI: Carmelo is 6'8, 230 pounds, and KG is 6'11, 250 pounds).
The two never came to physical blows, ESPN reported, and Kevin was able to safely board his team's bus.
The next day, after all was said and done, Carmelo told reporters that KG had insulted him on the court and said some things that "crossed the line."
"It's something you just don't say to men, another man," Anthony said Tuesday (Jan 8) after practice. He also explained that contrary to popular belief, he wasn't looking to fight Kevin at all. (Yeah right!)
"My mindset and motive of going back there to see him at the locker room and seeing him at the bus, I wanted to have a one-on-one conversation with him and talk about it like two grown men," Carmelo said.
Things now seemed to have been smoothed over between the two players, as league sources say Melo and KG squashed their beef over a phone conversation.
Still, Carmelo's post-game actions apparently didn't sit too well with the NBA, because they suspended him for one game — tonight's, against the Indiana Pacers — without pay.
A rep for the league said in a statement, "There are no circumstances in which it is acceptable to confront an opponent after a game. Carmelo Anthony attempted to engage with Kevin Garnett multiple times after Monday's game, and therefore a suspension was warranted."
As for the alleged comments from KG about his wife tasting like honey nut cheerios, Carmelo refuses to entertain them.
"That's over with, I don't even want to go back to that," he told inquisitive reporters. "No disrespect, but I don't wanna keep talking about the same thing and beating a dead horse. No disrespect, but I don't wanna keep talking about the same thing and beating a dead horse."
Be the first to receive breaking news alerts and more stories like this by subscribing to our mailing list.