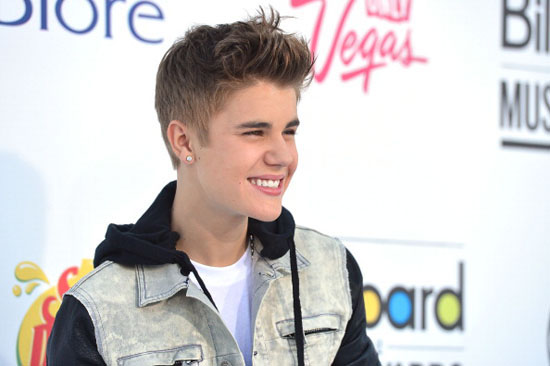 According to confirmed reports from New Mexico, two men were arrested last month for their part in a bizarre plan to have Justin Bieber murdered and castrated in New York City where the singer recently performed a concert.
The plot was reportedly cooked up by a man named Dana Martin who is a convicted murder and rapist and is serving two life sentences at the state prison near Las Cruces, NM for raping and killing a 15-year-old girl in Vermont twelve years ago.
Martin is said to have recruited fellow inmate Mark Staake at the prison to help him carry out a series of heinous crimes, including one that included the kidnapping and murder of Justin Bieber.
The plan was for Staake, once he was sprung for prison, to go to New York City, kidnap Justin and his bodyguard after the concert, strangle them with paisley ties — Martin's "calling card" (or, his "signature move") — and then have the both of them castrated.
The Toronto Star reported that the bounty on each testicle was set at $2,500.
Staake had reportedly convinced his nephew Tanner Ruane to join in on the wacky scheme and perform the gruesome task of castrating Bieber and his bodyguard.
The pair were also hired to kill at least two people who live in Vermont who were witnesses in Martin's rape case. But Staake and Ruane were arrested before they were able to carry out their grisly deeds.
Investigators say for some mysterious reason … Martin, who is oddly obsessed with Justin Bieber and even has a tattoo of the superstar on his leg, blew the whistle on his whole plan and turned Staake and Ruane in.
Staake was arrested in Vermont on outstanding warrants, and Ruane was later arrested in New York with "murder tools" and pruning shears with him, KRQE News reported.
Police say they recorded phone conversations between Ruane and Martin, and Ruane can be heard telling Martin how disappointed he was that he couldn't carry out the murders.
Justin Bieber's longtime manager Scooter Braun issued a statement to US Weekly, saying, "We take every precaution to protect and insure the safety of Justin and his fans," refusing to specifically comment on the situation.
Ruane's mom — who is also Staake's sister — strongly denies that her brother and son were part of an elaborate scheme to kidnap, kill and de-ball anyone, much less Justin Bieber.
"This Justin Bieber thing, it's ridiculous, absolutely ridiculous," Kristin Cashman told the New York Post. "My son was not planning to kidnap or hurt anyone. He has nothing to do with any of this."
"This has got to be some crazy thing Dana Martin made up. Everything about it is made up," she added.
"I remember him saying that Dana had a Justin Bieber tattoo, and Mark was laughing about it," she recalled. "But kill Justin Bieber? No. No way."
Be the first to receive breaking news alerts and more stories like this by subscribing to our mailing list.