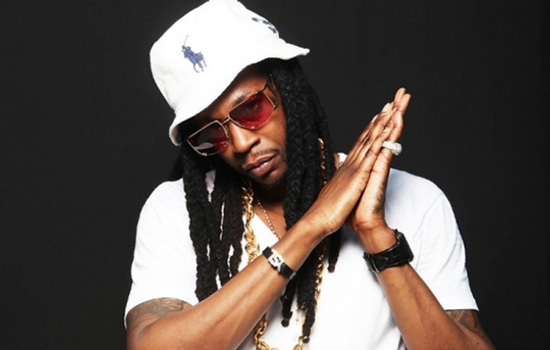 2 Chainz — the rapper formerly known as Tity Boi — is considered one of the most popular and successful new artists out right now, but before all of the fame, fortune, #1 albums and hit singles, he was a high school basketball star.
ESPN recently uncovered some vintage footage of 2 Chainz from one of his high school basketball games when he was playing for North Clayton High School in College Park, Georgia, near Atlanta.
In the clip, dated January 17th 1995, 2 Chainz, then known as Tauheed Epps, can be seen sinking a three-pointer and then catching a SICK dunk at the end of the game.
A former teammate of his told ESPN:
Tauheed was someone you could depend on. You knew when he took a certain shot, it was going in; just go ahead and count that. You knew when we was down a little bit, you could count on him bringing us back. Everybody else was going to have to do their part, but he was definitely there to bring us back.

We played another game against Cedar Grove when Tauheed hit a 2 at the buzzer to take us into overtime. And then he hit another to take us to another overtime, and I said, "Ooohh." We ended up winning that game in three overtimes.
After graduating from North Clayton, Epps went on to play a full season of Division I college basketball at Alabama state during the 1996-97 season. In one game, the athlete and then aspiring rapper put up an impressive 14 points and seven rebounds in just 10 minutes.
Now, Tauheed Epps is known to the world as "2 Chainz," and after scoring the #1 spot on the Billboard 200 chart with his debut album "Based on a TRU Story" — following numerous hit singles with Drake, Nicki Minaj, Kanye West and others — the Atlanta rapper is continuing to make waves in the music industry.
Rob Spivery, who was the head coach at Alabama State when 2 Chainz played for them, had this interesting story to share with ESPN:
Just last week, my youngest daughter sent me a text asking me if I knew a guy named Tauheed Epps. I responded and said, "Yes, why?" She went on to explain to me who he is in the rapping field – and his new name, 2 Chainz. That was my first time knowing his rap name.

I went online to look him up. What I do remember is after he left the program, he came back to Alabama State as a DJ with Ludacris when he was breaking through.

I got to see him during his visit during homecoming at Alabama State. It's good to know he's stuck with it and he's making a name for himself. I haven't heard his music, but I'm sure I will.
Sidebar: 2 Chainz turned 36 this week, and we hope he got exactly what he wanted for his birthday!
Be the first to receive breaking news alerts and more stories like this by subscribing to our mailing list.