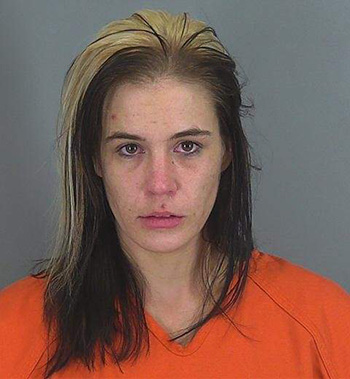 A South Carolina mother is facing child neglect charges after police say she left her 3-year-old daughter inside a Walmart while she slept outside in the parking lot.
Spartanburg County Deputies told WYFF4 that they responded to a 911 call about a child left unattended in a shopping cart inside the store just after 10 pm Monday night (Aug 27).
When deputies arrived, they were told by store employees that a woman was captured on surveillance video leaving the child in the shopping cart, and walking right out of the store.
The surveillance footage also showed a woman pushing a shopping cart with the girl in it, then walking away from the cart and out of the camera's view, the Spartanburg Herald Journal reported.
According to the police report, the abandoned child told the police officers that her mother — who she called "Kim" —  was in the bathroom, but they weren't able to find her there, and no one responded to several intercom announcements about a lost child in the store.
The police report says that officers found a purse in the shopping cart that contained a wallet with a birth certificate and social security card belonging to 28-year-old Kimberly Nicole Brewer. An investigator also reportedly found a substance in the wallet that tested positive for methamphetamine.
The little girl was taken into protective custody, and about five hours later, at around 3 in the morning, Walmart employees called police and told them that Brewer had come back into the store and confessed to them that she had been asleep in her car … and when she woke up, she realized her purse and her daughter were missing.
In addition to the child neglect charges, Brewer — who was booked into the Spartanburg County jail — was also charged with possession of meth.
Be the first to receive breaking news alerts and more stories like this by subscribing to our mailing list.