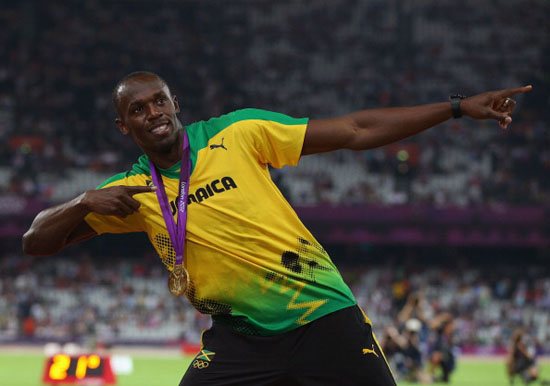 Usain Bolt is a lot of things. Fast, talented, successful and gifted. But one thing he is not, is humble.
Just like Kanye West, Usain Bolt knows that he's great and he won't let you forget it.
Usain's cockiness has been a source of contention for many spectators for years. His exaggerated poses and dancing on the track are seen as tasteless and unnecessarily cocky by some. And now, Usain has proclaimed himself "the greatest athlete who ever lived." (EVER lived?)
"I'm now a legend. I'm also the greatest athlete to live."
You might have argued for his case if he said "greatest athlete at these Olympic Games," but Usain wants to reach all the way back in time and put himself above every man in history. Something tells us Hercules would have something to say about that.
There's no doubt that Usain is definitely the fastest man alive, but greatest athlete is such a ridiculous statement that it's a title no one person can credibly lay claim to. It's like someone saying they're the greatest human being who ever lived. Where do you even begin to measure that?
But hey, if we had a rack of gold medals hanging around neck and a bevy of white girls in our bed, we'd probably talk reckless too. And pose like this:
Be the first to receive breaking news alerts and more stories like this by subscribing to our mailing list.