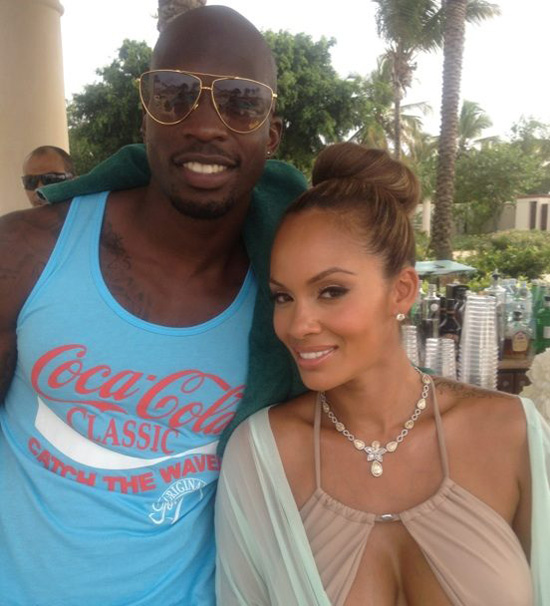 After a very public nearly two-year engagement, NFL player Chad Ochocinco and his fiancee Evelyn Lozada from "Basketball Wives" finally tied the knot on the Caribbean island of St. Martin on the Fourth of July in front of their friends and family … and VH1 cameras, of course.
While most of the details of their wedding will most likely be saved for their upcoming reality show "Ev and Ocho" when it premieres this September, Chad managed to live-tweet throughout the ceremony, giving his 3.5 million Twitter followers a preview of his big day.
Using twitter as a diversion to keep me from getting nervous RT @FABULOUSnFIERCE: I cannot deal with @ochocinco tweeting on his wedding day

— Chad Johnson (@ochocinco) July 4, 2012
I'm still turnt up, haven't seen Eve all day, some tradition bull shit, I'm on MW3 eating a PB&J waiting to walk down this aisle, y'all busy — Chad Johnson (@ochocinco) July 4, 2012
I just got word that @cheryl2958 is here n comfy in her seat at the wedding, in other news I look good than a mofo right now,#back2uBill — Chad Johnson (@ochocinco) July 4, 2012
Live tweeting from my wedding… should be a first I'm assuming, music is playing, can't see my guest right now but they're here… #nervous — Chad Johnson (@ochocinco) July 4, 2012
What if @EvelynLozada is a runaway bride when I get out there and I'm stuck looking good all by myself… did I mention looking good? — Chad Johnson (@ochocinco) July 4, 2012
I'm breathing like a pregnant lady in lamaze class right now… I was hoping continuing to tweet with y'all support would calm me down — Chad Johnson (@ochocinco) July 4, 2012
Y'all still there? How many times is Eve gonna change outfits… Is this normal to have more than 1 outfit besides the wedding gown? — Chad Johnson (@ochocinco) July 5, 2012
Well shit she's on outfit #4 and i'm stuck in this damn tux… RT @PaolaBColon: @ochocinco 2 outfits is normal anything else is unnecessary

— Chad Johnson (@ochocinco) July 5, 2012
F*ck that i can't believe i just got married… Turn up RT @masterszack25: I can't believe your tweeting after you just got married

— Chad Johnson (@ochocinco) July 5, 2012
After he and Evelyn said "I Do," Chad updated his profile picture to show off an image of his and Evelyn's wedding rings. (see below)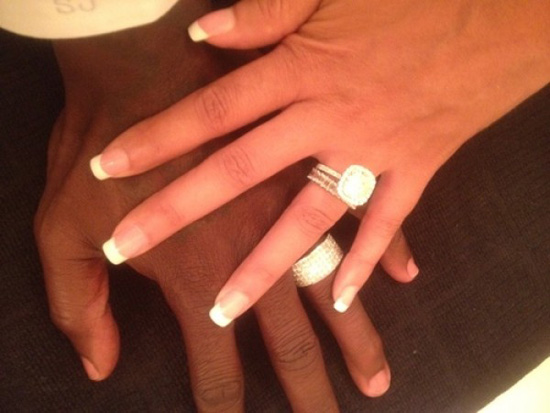 No word so far on whether or not Evelyn's former BFF and BBW castmate Jennifer Williams was in attendance at the wedding, though Evelyn recently confirmed that Jennifer was still not invited, despite their "making up" on the Basketball Wives reunion show last month.
Getting married on the Fourth of July was a calculated move for Ochocinco, who admits that he chose Independence Day as his wedding day "so I'd never forget our damn anniversary."
The father of four proposed to Lozada in November 2010 with a whopping 10-carat engagement ring, which he had personally delivered by a jeweler. "[It was] a total surprise! We sat there and picked out the ring," Lozada told Us Weekly of her intimate proposal.
After enjoying (for the most part) a two-year engagement, and going through lots of ups and downs — such as briefly calling off their wedding earlier this year — the couple is on cloud nine.
The new Mrs. Johnson said of her husband, "We have a true friendship. And he can keep up with my mouth! I'm very verbal, and say what I think and feel. He's the same way. He makes me laugh."
Be the first to receive breaking news alerts and more stories like this by subscribing to our mailing list.