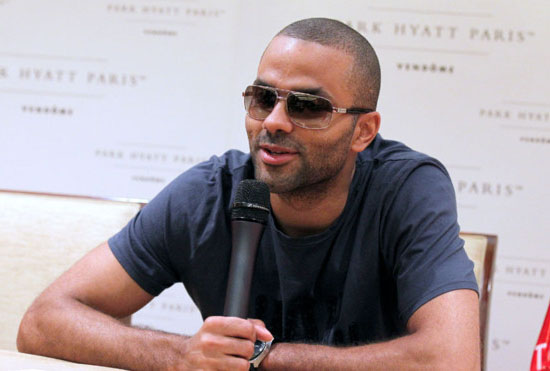 NBA star Tony Parker says he almost lost his eye after Chris Brown and Drake's fight at W.i.P nightclub in New York City earlier this month … and now he's also suing the NYC area nightclub's owners for $20 million.
As a result of the highly publicized melee, which allegedly involved Drake, Chris Brown and members of their respective entourages … Parker — who was hanging out with Chris Brown at the time — suffered a scratched cornea, and had to undergo emergency eye surgery, at the risk of the losing his eye.
According to a loose translation of an interview on Parker's official website, doctors performed additional tests last week and found a piece of glass that had penetrated 99% of his left eye.
"I can say today, I almost lost my eye," Parker wrote, adding that the injury is more serious than he initially thought.
The Spurs are worried about Parker's eye injury, and have requested that he fly back to the United States on July 5th to see a specialist in New York, which means that he will miss the French national team's first three games in the upcoming 2012 Summer Olympics.
At that time, he will find out whether or not it's okay for him to join his French Olympic team for the remainder of the Olympics. "The decision is no longer mine," he wrote. "It is in the hands of the physician and San Antonio."
READ: Tony Parker and Model Ingrid Gutiérrez Among Those Injured in Chris Brown/Drake Nightclub Brawl
Parker also confirmed that he has filed a $20 million lawsuit against W.i.P nightclub in New York City, where the brawl took place.
In papers filed in Manhattan Supreme Court last Thursday (Jun 21), Parker holds the owners of W.i.P responsible for the "corneal laceration of the left eye and other injuries" the NBA player suffered as a result of the bottle-throwing brawl at the now-closed SoHo area nightclub.
The lawsuit states that the club owners were negligent in security and supervision, and they should have known better than to let Chris Brown and Drake — who are known "rivals" and have reportedly been beefing over Rihanna — in the same building at the same time.
The suit names neither Brown nor Drake as defendants, but Parker's attorney David Jaroslawicz blames the club for basically allowing the fight to go down.
"The defendants were reckless, careless and negligent in permitting Drake's entourage and Brown's entourage to be in the club at the same time despite known tension between the two," the filing says.
"She's been known, like Helen of Troy, to cause trouble," Jaroslawicz said of Rihanna, who was in a very public relationship with Chris Brown (before "the incident"), and has also been romantically linked to Drake at one point.
Jaroslawicz said that by selling both camps booze and giving them bottle service, the club was "throwing gasoline on the flames." He added that he didn't know the bar tab, "but it's probably more than kids' tuition for the year."
Chris Brown, his girlfriend Karrueche Tran, his bodyguard Big Pat and other nearby, innocent bystanders — including Tony Parker, model Ingrid Gutierrez and an Australian tourist — were among eight injured during the fight.
So far, everyone mentioned — with the exception of Brown, his girlfriend and his bodyguard — has filed separate lawsuits against the nightclub.
Tony Parker says his eye injury shouldn't affect his game when the NBA season starts in the fall.
Be the first to receive breaking news alerts and more stories like this by subscribing to our mailing list.