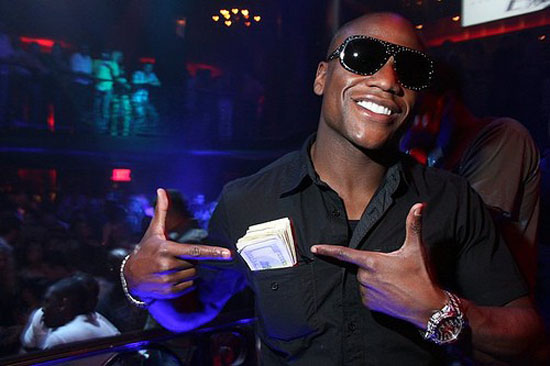 Move over Tiger Woods, there's a new "world's highest paid athlete" in town … and his name is Floyd Mayweather, Jr.
Despite his unfortunate incarceration, Floyd Mayweather Jr. has earned at least $85 million over the past 12 months, more than any other athlete in the world, putting him at the #1 position of Forbes Magazine's list of the Top 100 Highest-Paid Athletes in the World.
Guess his nickname "Money" Mayweather has a bit more meaning to it now, huh.
Mayweather's $85 million came from revenue earned from just two fights over the past year — Victor Ortiz in September, and Miguel Cotto back in May, right before he turned himself in to begin his 90-day prison sentence for domestic violence charges.
And because Mayweather works as his own promoter through his company Mayweather Promotions, he gets to maximize his earnings by keeping all of the revenue from tickets, pay-per-view and sponsorships.
Tiger Woods — who has been Forbes' top-earner since 2001 — ranks third this year with earnings of $59.4 million, which is $16 million less than what he made last year, and almost half of what he earned in 2009, before … well, you know the story.
Second on the list, with $62 million earned, is Mayweather's boxing rival Manny Pacquiao, who, in addition to his two boxing matches — against Juan Manuel Marquez and Tim Bradley — made his money from endorsements with Nike, Hewlett-Packard, Monster Energy and Hennessy.
The rest of the top 10 is rounded out by LeBron James ($53 million), Roger Federer ($52.7 million), Kobe Bryant ($52.3 million), Phil Mickelson ($47.8 million), David Beckham ($46 million), Cristiano Ronaldo ($42.5 million) and Peyton Manning ($42.4 million).
[Forbes]
Be the first to receive breaking news alerts and more stories like this by subscribing to our mailing list.