Earlier this month, NBA star Amare Stoudemire took his longtime girlfriend Alexis Welch on a romantic vacation to Paris, and asked her to be his wife.
"Paris, the food & lights were very romantic. When she said yes, it was surreal. I'm still floating," Amare tweeted last Sunday night (Jun 3).
But what else is there to know about the New York Knicks player and the woman who has been holding him down for the past decade?
In an exclusive interview with the NY Post, Amare Stoudemire's fiancee (and the mother of his children) Alexis Welch dishes on how they met, how proposed to her, their family and their big move to New York, and more.
"It's been a whirlwind. I'm so overjoyed," Welch told The Post in her first interview. "Everyone is calling, wanting to know all of the details. I'm marrying my best friend."
Continue reading for "10 Things You Need to Know" About Amare Stoudemire and His Fiancee Alexis Welch: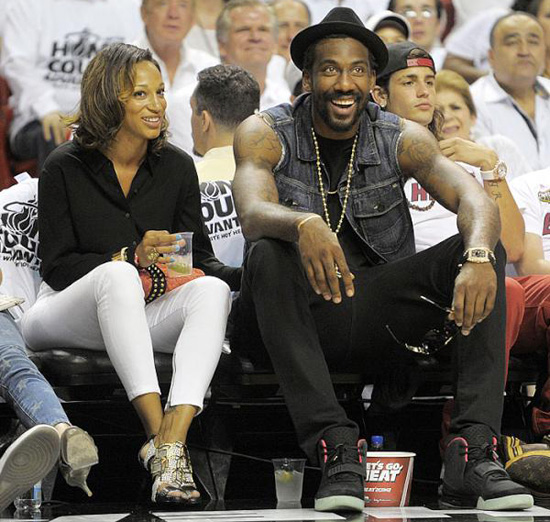 #1

– Amare and Alexis met at a nightclub in Phoenix, Arizona back in October 2002 at a Nelly concert after-party, and they instantly hit it off:
Stoudemire — fresh out of high school — had been newly drafted by the Phoenix Suns. Welch had been living in the desert city, and attended high school there as a three-sport star in basketball, track and volleyball.

"Since we were both 19, they put us in a private room in the back of the club. He was wearing a Kansas City Chiefs Joe Montana jersey," says Welch. "I'm originally from there, so we started talking about Montana when he played there."

The conversation clicked, and it certainly didn't hurt that he was 6-foot-11. "I've always liked guys who were taller than me when I wear heels," says Welch, who is 5-foot-10.
#2

– Alexis — who comes from a close-knight family with two sisters, an entrepreneur father and a mom who works in interior design — is from Phoenix … and Amare is from Florida.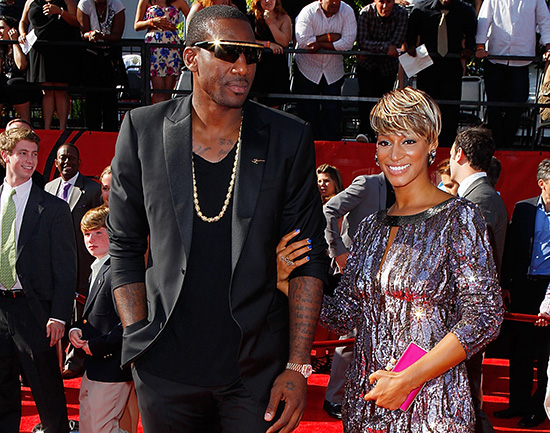 #3

– The early stages of Amare and Alexis' relationship was very simple:
"We were both really young, so we went to a lot of movies. I would make him dinner, and we would just spend time together. We would talk all the time," says Welch, who recalls Stoudemire raising his eyebrows at his first Thanksgiving meal with her family.

"We're a cooking family. We had some good old-fashioned mac and cheese and greens. [And] he put sugar on his greens," she says with a giggle. "It was his Southern roots shining through."
#4

– Amare and Alexis have three children together — their daughters Ar'e (6) and Assata (4), and their 5-year-old son Amar'e Jr.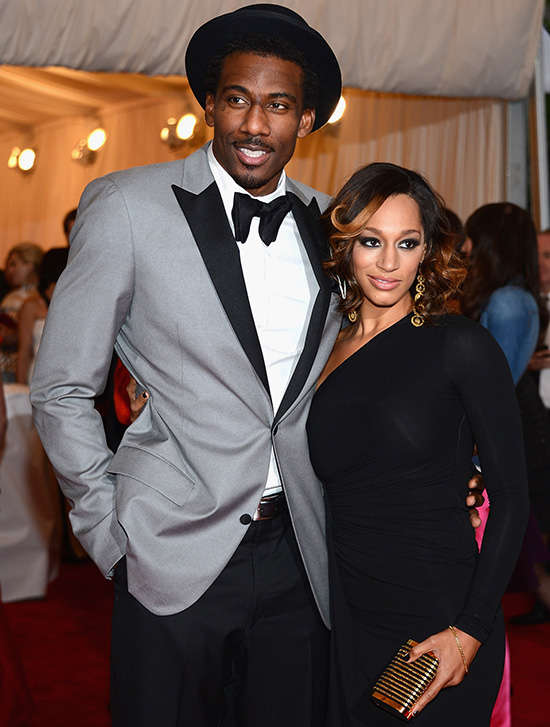 #5

– Alexis was too nervous to introduce herself to Beyonce when she went to the 2012 MET Gala with Amare:
Last month, Welch, clad in Michael Kors, accompanied the natty Stoudemire to the Met gala, where she admits her nerves almost got the better of her.

"Thank goodness, Amar'e is used to these events, so he makes me feel more comfortable," says Welch. She was seated with Cameron Diaz and Stella McCartney, and met Diane von Furstenberg.

"We were standing close to Beyoncé, but I was too nervous to introduce myself. Everyone has a wish list of celebrities [to meet]. She's on there. But now, her husband is the owner of the Nets, so there's a little bit of a rivalry going on," she jokes.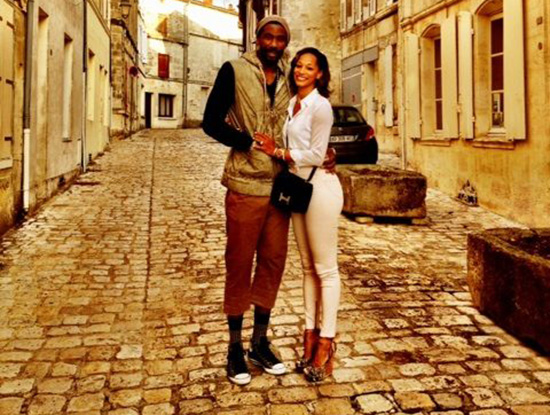 #6

– Amare's romantic and well thought out proposal — complete with a 8 and 1/2-carat diamond engagement ring — totally caught Alexis off-guard:
"I'm usually on top of everything, but he got me. We were going to France to visit Cognac [area]," says Welch, who describes a whirlwind trip of cognac tasting, plus a jaunt to Paris, where they stayed in the royal suite at Le Meurice Hotel Belle Etoile, went to the Louvre and took in a Kanye West and Jay-Z concert.

On their last night in the French capital, she says, "We went back [to the room], and there were rose petals leading to a balcony with a 365-degree view of Paris. We walked out to the twinkling lights of the Eiffel Tower. He had an acoustic-guitar player. He had a saxophonist. This is another side of Amar'e that people don't get to see. I'm just getting teary-eyed talking about it."

Stoudemire, who hired a photographer to capture their trip, including the magical moment, tweeted a picture of the couple, adding, "When she said yes, it was surreal. I'm still floating."

The duo flew home the next morning to tell their children, who are equally excited.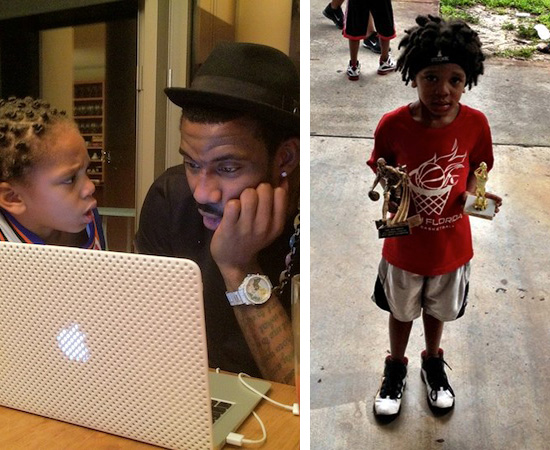 #7

– Amare and Alexis' kids are all athletic, and — with the exception of their 4-year-old daughter — are involved in sports:
"Our oldest daughter dances competitively and cheers for our son's football team. Our son plays football and basketball. Our youngest is still figuring out her sports," says Welch.
#8

– Amare and Alexis are excited about raising their family in New York City (where Amare was traded to in 2010 after eight seasons with the Phoenix Suns), and Alexis has already hit it off with some of the Knicks' wives and girlfriends:
The couple are excited to raise city kids surrounded by museums and parks, saying the mini-Stoudemires love ice skating in Central Park and playing at Chelsea Piers.

Welch doesn't anticipate deviating from her normal busy schedule of parenting, including reading her kids the "No, David!" series of children's books and cooking healthy, mainly vegetarian meals. "They are young, so they still enjoy being with us. So I'm going to enjoy every minute," adds Welch.

While the bulk of her friends are in Phoenix, Welch calls the Knicks' wives and girlfriends a "nice group of women," adding she seems to have the most in common with Tyson Chandler's wife, Kimberly. "[Kimberly] has three small children as well, so I know we'll probably hang out more when we get to the city."
#9

– Amare and Alexis still have Kansas Chiefs Joe Montana jersey Amare was wearing when they first met:
"We actually still have that jersey," she says. "And I'm getting it framed for our house."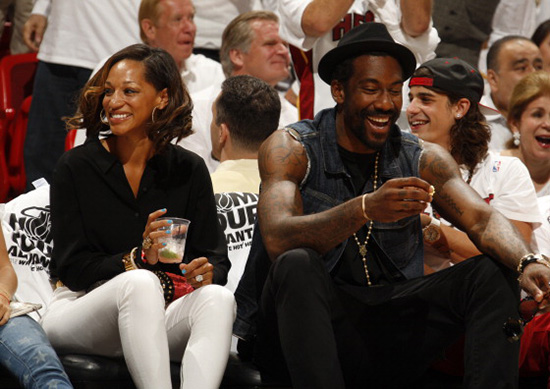 #10

– Amare and Alexis' wedding will be "sometime in 2013."

Read more about Amare Stoudemire and his fiancee Alexis Welch over at the New York Post!
Be the first to receive breaking news alerts and more stories like this by subscribing to our mailing list.