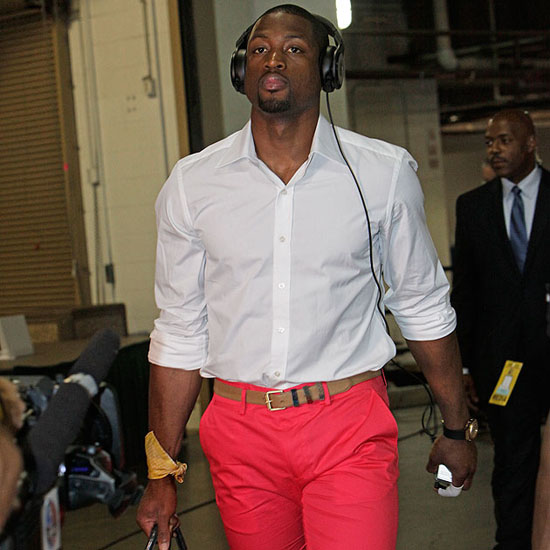 Before helping his team defeat the Indiana Pacers and end their playoff run Thursday night (May 24) in Game 6 … Dwyane Wade of the Miami Heat already had people talking, and it had nothing to do with his skills on the court.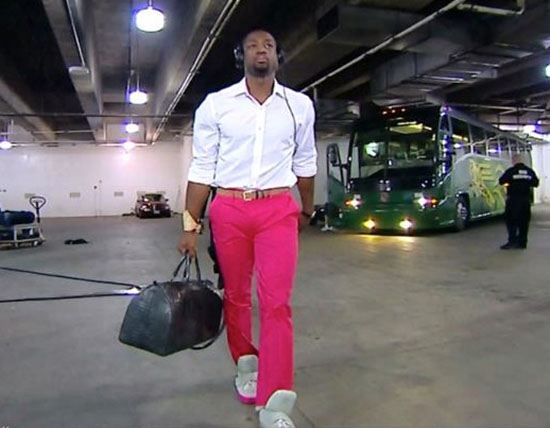 Dressed in a white button-up shirt and a pair of hot pink pants (and matching pink/white sneakers), the NBA player made one hell of a fashion statement as he made his way into the Bankers Life Fieldhouse in Indianapolis, Indiana. (See below)
Rick Kamla from NBA TV called Wade's choice of wardrobe a "flagrant fashion foul," but the Heat guard embraced the criticism in the post-game interview.
"I know they're killing me in the studio over my pants," he said. "And they're just mad they can't pull it off."
Accroding to ESPN's Rachel Nichols, even Dwyane's own teammate LeBron James made fun of him before the game.
LeBron James: "Damn, for real, those are close-out pants? And the finger sleeve?"

Dwyane Wade: "You gotta coordinate."

James: "You look like Eddie Murphy in the '80s"

Wade: "Eddie Murphy wishes he looked like me."
After he changed into his basketball gear, Dwyane Wade went on to score 41 points and 10 rebounds, assisting his teammates in their 105 to 93 victory over the Pacers. Not too bad for a guy who wears hot pink pants.
Your thoughts on Dwyane Wade and his hot pink pants?
Be the first to receive breaking news alerts and more stories like this by subscribing to our mailing list.