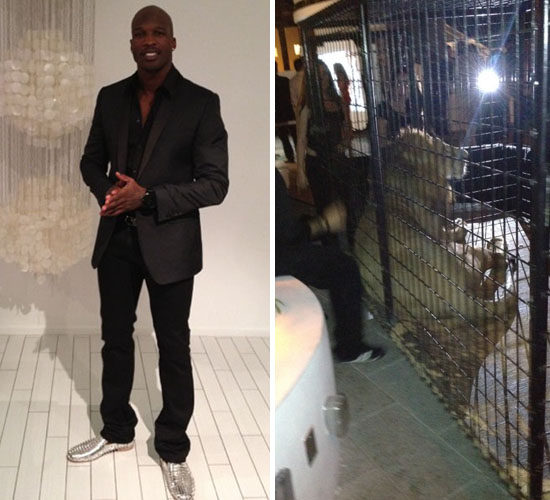 Chad Ochocinco was all suited and booted at a Voices for Children charity event in Miami this past Saturday night (Mar 3) with his fiancee Evelyn Lozada and his friend Darrelle Revis when all of a sudden, he got peed on by a lion. (Yes, a living, breathing lion!)
And of course Ochocinco live tweeted throughout the entire ordeal, from beginning to end:
Ok I'm out the house partying with Evelyn with my church clothes on, little does she know we going straight to 7a.m. service from the club.
Swear to lil 10 pound bearded baby Jesus I just got peed on by a real "Lion" I'm not lying either. And y'all wonder why I don't go out!!!!!
I put that on my LIFE it just happen, i'm not lying. RT @MsHazelMonroe: @ochocinco U're a compulsive liar! shut up
I never go out at night n the night I do I get peed on by a real "Lion" I feel honored, who can say they got peed on by a "Lion"
Yes, i'm at Voices for Children charity event n there's a real Lion here in the cage. Why would I lie? RT @larose03: Seriously a real Lion?
He didn't pee on Evelyn which is bullsh_t! I can't go to church pissy
I can't believe some of you find such a horrific and emotionally draining accident so funny. I'm disgusted at all of you who laughed.
I wasn't that close, he sprayed like a water gun
Feeling down bruh a Lion peed on me, basically marking his territory which makes me his bitch RT @BurressPlaxico: @ochocinco what's good
Just another day in the crazy life of Chad Ochocinco…LOL!
Your thoughts?
Be the first to receive breaking news alerts and more stories like this by subscribing to our mailing list.