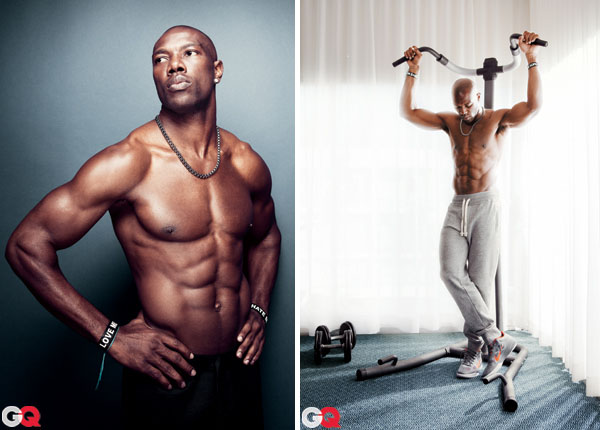 Aww, Po' Lil Tink Tink!
Terrell Owens opens up about being a broke & unemployed athlete, his rumored suicide attempts, baby mama drama and more in the latest issue of GQ Magazine.
Read a few excerpts from his interview below:
On suicide attempts:
"The hospital released me that night. If they thought I was suicidal or I hadn't been conscious, you ask yourself, would they have let me go that night? … But that doesn't mean I don't get real down. I'm human; that's what people don't realize. I may be a public figure, but really, I'm just like a guy who could be in your family and have some difficult things happen to him."

On blowing $80 million dollars:
"I hate myself for letting this happen. I believed that they had my back when they said, 'You take care of the football, and we'll do the rest.' And in the end, they just basically stole from me."

 On his baby mama drama:
"If there's anything I'm sorry about, it's getting involved with all that."

He never actually dated any of the women, he says. One was a one-night stand, the others "repeat offenders." Owens, who has never been married, concedes he is "not a very good judge of character." Still, he "never suspected they were the types to do what they done in the past year."

On not having any friends:
"I'm in hell. I don't have no friends. I don't want no friends. That's how I feel."

On falling out with Kita and Mo:
He misses Monique and Kita, who used to check in a lot; he fell out with them a few months ago, after shooting ended for the final season of the show, when he discovered they were trying to sell their own lives as a reality program. "They said they were planning to make me an executive producer, but if we were business partners, don't you think I would have known about it?"

[GQ]
Even though T.O.'s attitude is a big part of the reason he is going through so much right now … you can't help but feel a little sorry for the guy!
Thoughts?
Be the first to receive breaking news alerts and more stories like this by subscribing to our mailing list.