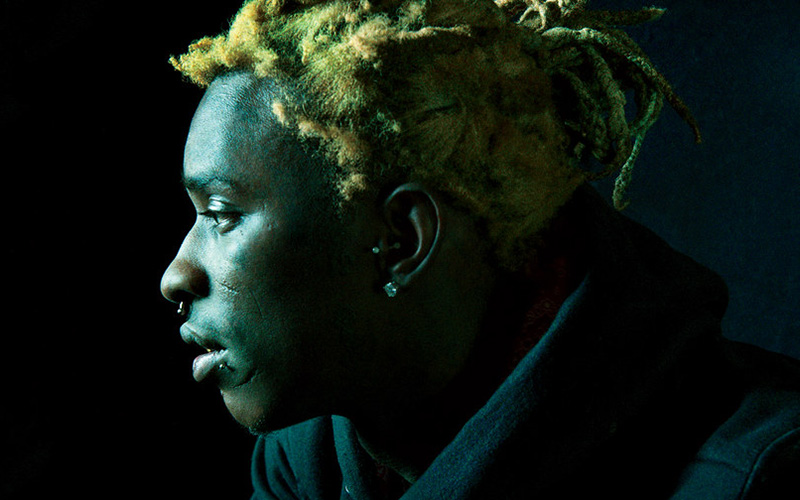 Young Thug says he had absolutely nothing to do with Lil Wayne's tour bus back being shot up in Atlanta earlier this year, and he also thinks Lil Wayne wants to be him.
In a recent interview with GQ magazine, Thug denied plotting to have Lil Wayne killed ("Fuck no!" he said adamantly when asked straight up) and spoke on his admiration for the Young Money head honcho.
According to Thug, he strongly believes Wayne wants to be him and he admits he would be Wayne if he could.
Thug also talked about being weird in high school, how he has been wearing girl clothes since he was 12, his biggest fear, the Drake/Meek Mill beef, and more.
Check out excerpts from the interview below.
1
On if he tried to have Lil Wayne killed:
GQ: Plain and simple: Did you try to have Lil Wayne killed?

YT: Fuck no.
2
On why he choose Cash Money to pursue his career:
GQ: Why'd you decide to connect with Birdman and Cash Money Records?

YT: Because my whole life I looked up to them. I wanted to stunt like Birdman, which I fucking am. And I wanted to be like Wayne.
3
On Lil Wayne having a problem with him:
GQ: Does it bother you that Wayne, one of your idols, clearly has a personal problem with you?

YT: Maybe if I was a peasant it would. But of course it bothers me some, because that's what I always wanted. It was so weird: I always wanted to be in the studio with Wayne. I would tell Birdman to bring him over, but he never fucking came.
4
On him believing Wayne wants to be him:
GQ: The first time I saw you perform was five years ago…

YT: That was when I was Wayne. And he's me now.

GQ: What do you mean?

YT: I feel like if he had the chance to be himself or me, he'd be me. If I had the chance to be myself or him, I'd be him. That man is the greatest. If we had the biggest problem in the world, I'd still say he's the best rapper in the fucking world. Everybody knows nobody raps better than the fucking boss.
5
On being weird in high school:
GQ: You're pretty weird now. Were you weird in high school?

YT: When I was in high school, I had a gambling problem. I played quarterback, and I used to have ten pairs of dice in a little bag. I never even went to the school where I was from. My dad wanted me to play football so bad, he took me to Washington High School on the west side of Atlanta because they were number one. They never lost. I played for one year, but then I started gambling again and going to other hoods. All the people in school probably thought I was weird, so I was quiet the whole time I was in school. But I always paid attention to every single thing.

GQ: How was it interacting with the girls? Were you popular with them?

YT: Of course. Yeah. Girls like the cool guys. You would've liked the cool guy instead of the class clown, right?

GQ: But weren't you cool, though, right? Cool guys usually have a lot of friends, et cetera.

YT: Oh, you mean, like, popular cool. I was popular cool because I played varsity quarterback in the ninth grade. But I was calm because I didn't really know anyone. Every girl at school had my number spray-painted on their faces and shit. I didn't know nobody, so I was just kept to myself.
6
On wearing women's clothing since he was 12 years old:
GQ: Why do you wear women's clothing?

YT: Because women's clothes are [slimmer] than men's clothes. The jeans I got on right now, they're women's jeans. But they fit how they're supposed to fit. Like a rock star. The only thing I probably have in men's is, like, briefs. T-shirts. Ninety percent of my clothes are women's.

GQ: When did you start wearing predominantly women's clothing?

YT: When I was 12 or some shit, started gambling, getting my own money. My dad wouldn't buy me tight pants. I had to get my own money to buy them.

GQ: It's one thing to wear "rock star" clothes when you're on stage with thousands of fans, it's another thing when you're 12 years old, shooting dice in someone else's hood. Did people fuck with you for it?

YT: Yeah, it was way more difficult. But I was so into that gangster shit. Dudes didn't play.

GQ: How do you get them not to fuck with you?

YT: How? Shoot the shit out of one of them. Beat the fuck out of them. However you have to handle it. There's no thinking [when someone disrespects you], we gotta handle it right then. So as young men, we had to do a couple things. Then people respected us.
7
On openly using guns and showing them off on social media:
GQ: You tote guns very openly. Are you more rock star or gangster?
YT: Ninety-nine percent of me is rock star. Of course, I'm a natural-born gangster. Who don't know that?
8
On his biggest fear and having to take care of his sick mother:
GQ: Are you ever worried…

YT: That something's gonna happen to me? Of course. I'm still a human, so of course. I guess that's why I survive. I'm with anything. If you want me to be a rock star onstage, that's what I'm ready to die about. But if you got a gun in my face, I ain't gonna wimp out. I wanna die being a rock star.

GQ: What's your biggest fear?

YT: Not seeing God.

GQ: When you die?

YT: Yeah. I want to see Him, I really do. And I'm afraid of my mom dying. If my mom died, I wouldn't want to do nothing. I would die. Quit.

GQ: Where does she live now?

YT: She's 51, with an enlarged heart, so at any time it could just burst or stop. But she lives somewhere in Georgia. Not a peasant can get to her.

GQ: Is that the driving force behind you making so many records nonstop?

YT: Yeah. I just be like, I look at her smile. She has eleven kids; I was the tenth. None of us ever had anything. So now that we finally got a little something…it's me.

GQ: Glad she kept making kids!

So fucking glad she had me. I'm pretty sure she's glad as fuck she had me, too.
9
On the Drake and Meek Mill beef:
GQ: How do you feel about the whole Meek Mill/Drake beef? Tough month for Meek, right?

YT: Tough month for Drake, tough life for the other guy.
10
On his new album and people complaining he mumbles too much:
GQ: You excited about the new album?

YT: Not really.

GQ: People's biggest complaint is that you mumble. Does that ever get to you?

YT: It don't really get to me. When it gets to me, I'll do it worse. I'll make a whole fucking mumbling album.

GQ: How would you describe where you're from?

YT: Like the bottom of your shoes. I'm from the bottom of your shoes.
Be the first to receive breaking news alerts and more stories like this by subscribing to our mailing list.