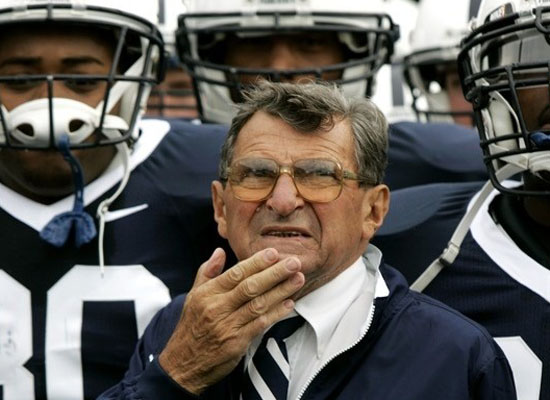 Joe Paterno — the legendary former football coach for Penn State — will be honored over the next three days with multiple funeral and memorial services scheduled at the university.
The 85-year-old, who is said to have won more games than any other coaches in college football, but was abruptly fired last year amid a child sex abuse scandal that scarred his good reputation, died Saturday (Jan 22) from lung cancer at a hospital in State College, PA.
Paterno's family released the following statement Sunday morning to announce his death:
"His loss leaves a void in our lives that will never be filled. He died as he lived. He fought hard until the end, stayed positive, thought only of others and constantly reminded everyone of how blessed his life had been. His ambitions were far reaching, but he never believed he had to leave this Happy Valley to achieve them. He was a man devoted to his family, his university, his players and his community.

"As the last 61 years have shown, Joe made an incredible impact. That impact has been felt and appreciated by our family in the form of thousands of letters and well wishes along with countless acts of kindness from people whose lives he touched. It is evident also in the thousands of successful student athletes who have gone on to multiply that impact as they spread out across the country."
Over a period of 46 years as the head football coach for Penn State University, Joe Paterno won 409 games, setting an unprecedented record for a Division I football coach. He also guided his teams to national championships in 1982 and 1986.
Paterno's lung cancer diagnosis was revealed shortly after he was fired from his head coach position by the Penn State board of directors in the aftermath of the Jerry Sandusky scandal.
Sandusky, Paterno's former assistant coach from 1969 to 1999, is charged with over 50 counts of sexually abusing at least 10 young boys over a 15-year period.
During the Sandusky investigation, Paterno testified to the grand jury that Mike McQueary, a former graduate assistant coach, told him that he saw Sandusky sexually assault a young boy in the Penn State locker room.
McQuery himself also testified that he had seen Sandusky attacking the child, and that he had told Paterno, who said he passed along the information to school officials, but did not notify any law enforcement authorities.
Paterno, McQueary and other Penn State officials were all severely criticized for failing to execute moral responsibility by not reporting the incident to the police.
According to various confirmed reports, two public viewings for Joe Paterno will be held on Tuesday from 1 – 11pm, and on Wednesday from 8am – 12 noon at a spiritual center on the Penn State Campus.
A private funeral service is scheduled for 2pm on Wednesday, followed by a public memorial service at 2pm Thursday at the Jordan Center, which is a basketball arena that holds up to 16,000 people.
Of course since Paterno was somewhat involved in a child sex abuse scandal, there will definitely be some controversy surrounding his funeral services, and of course, Westboro Baptist Church is at the helm of it.
According to the daughter of the infamous church's pastor, Westboro officials intend to protest and bring their anti-homosexuality message to the college.
Joe Paterno is dead. WBC will picket his funeral.He's in hell.Don't partake of your neighbor's sin! @espn @bleacherreport #GodH8sPennRape

— MargiePhelps (@MargieJPhelps) January 22, 2012
The Kansas-based church is well-known for their stance against homosexuality and their protests at celebrity and military funerals. In the past, they have targeted services for Michael Jackson, Steve Jobs, "Jackass" star Ryan Dunn and others.
Be the first to receive breaking news alerts and more stories like this by subscribing to our mailing list.