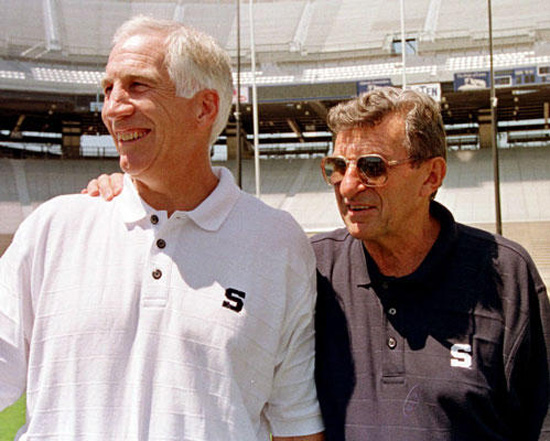 Penn State's legendary football coach Joe Paterno was fired yesterday after the university's board of trustees voted to oust him.
Early Wednesday, Paterno, who was affectionately known as "JoePa," announced that he would retire at the end of the current season in the wake of the child sex abuse scandal, sparked by the arrest of his former assistant Jerry Sandusky.
But the board voted last night and decided to fire him, effectively immediately.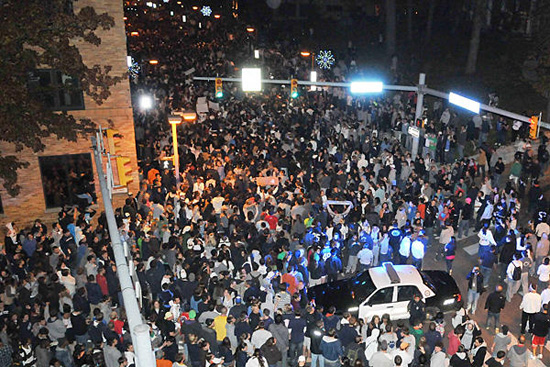 In the hours following the news of him being fired as Penn State's head football coach, JoePa issued a statement, expressing regret about his firing and appreciation for those who were involved in his career that spanned over 60 years at Penn State, and 46 years as the coach of the Nittany Lions.
I am disappointed with the Board of Trustees' decision, but I have to accept it.

A tragedy occurred, and we all have to have patience to let the legal process proceed. I appreciate the outpouring of support but want to emphasize that everyone should remain calm and please respect the university, its property and all that we value.

I have been incredibly blessed to spend my entire career working with people I love. I am grateful beyond words to all of the coaches, players and staff who have been a part of this program. And to all of our fans and supporters, my family and I will be forever in your debt.
Last night, more than 1,000 students protesting Paterno's firing poured into the streets around campus and began to riot.
Filled two city blocks near the campus, the students overturned a news crew's van and also damaged several light poles.
A large number of state troopers and police, some decked out in riot gear, tried to clear the streets.
Some officers reportedly used a chemical spray to disperse the demonstrators. Crowds eventually somewhat thinned out after a light rain began to fall.
A few students were escorted away by police, though a spokeswoman said she wasn't aware of any arrests.
A student with a bullhorn addressed the crowd, saying: "I think it's only fair to let him (Paterno) ride out the season because this is the house that Joe built."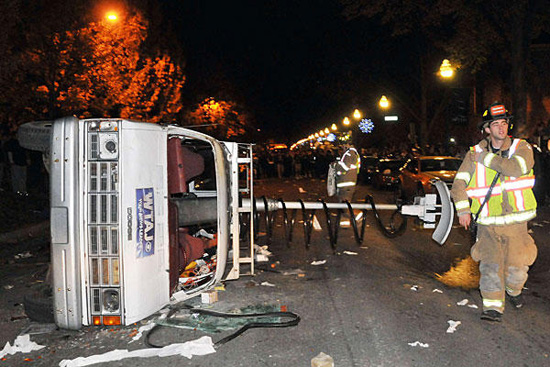 While chanting "Hell no, Joe won't go!" and "We want Joe back!" the angry and clearly upset students also cursed former assistant coach Jerry Sandusky, who was charged on Saturday with sexually abusing eight young boys over a period of nearly 15 years.
Two other university officials were also charged with failing to report a 2002 incident where Sandusky was allegedly seen sexually assaulting a child in front of them.
Just hours after the U.S. Department of Education announced an investigation of conduct at Penn state, head coach Joe Paterno was dismissed Wednesday by the university's board of trustees along with university President Graham Spanier.
"I haven't seen this kind of student outrage about anything since I've been here," Caroline Celoquin, a Senior from Westchester, Pennsylvania.
Nicole Attak, a freshman from New Jersey said she was "absolutely disgusted" about Joe Paterno being fired. "From a student's perspective, it's like where do we go from here? We no longer have a president. We no longer have a 45-year legacy."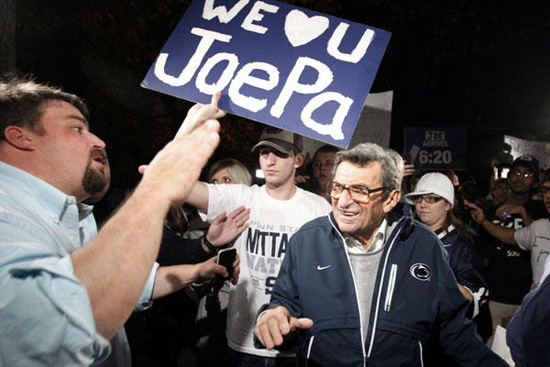 While most of the students protest the school's decision to immediately fire Paterno, some say they understand the move by the board of trustees, and did not condone Paterno's failure to report the alleged sexual abuse to police.
Still, the majority of the students weren't simply upset about Paterno being fired, they were more upset that he won't be allowed to complete the season, which is something he wanted to do.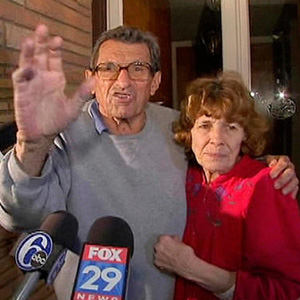 Paterno has won more games than any other major college coach in history.
He told a grand jury investigation that in 2002, when he was informed of his assistant coach's alleged sexual abuse of a boy, he quickly passed the information on to the athletic director of the university, but did not follow up.
Unbeknownst to him, the alleged abuse continued on for several more years.
Paterno and his wife Sue addressed students who assembled outside their home after the news of his firing was announced.
"You're all so sweet," she said, "And I guess we have to go beat Nebraska without being there. We love you all, go Penn State."
Be the first to receive breaking news alerts and more stories like this by subscribing to our mailing list.