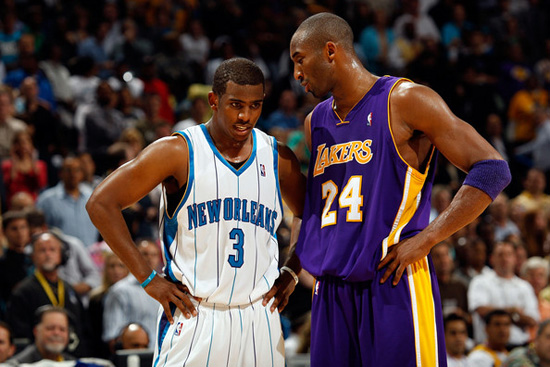 Chris Paul is headed to Los Angeles! But unfortunately, not to the Los Angeles basketball team everyone was hoping for.
The NBA announced today that the New Orleans Hornets have traded Chris Paul to the Los Angeles Clippers in a deal that will give them guard Eric Gordon, forward Al-Farouq Aminu, center Chris Kaman and a first-round draft choice.
Unlike the proposed Lakers deal, this new one with the Clippers was approved by NBA Commissioner David Stern, who, according to AP, must approve all deals regarding teams owned by the league.
The Chris Paul trade deal also includes New Orleans sending two future second-round draft picks to the Clippers.
READ: Chris Paul, Lamar Odom Trade Blocked by NBA Commissioner David Stern
26-year-old Chris Pau is a four-time All-Star who averaged 18.7 points and 9.8 assists last season.
Eric Gordon, who turns 23 on Christmas Day, averaged 22.3 points last season, while 21-year-old Al-Farouq Aminu, who stands at 6-foot-9, is a second-year pro, and the 7-foot Chris Kaman, 29, is an 8-year NBA veteran.
According to USA Today, Chris Paul will make $16.3 million this season alone while becoming the franchises most significant free agent acquisition since relocating to Los Angeles back in 1984.
Paul is also expected to sign an extension with the Clippers, who would own his "Bird rights."
Under the new collective bargaining agreement, Paul can sign a five-year extension with the Clippers for $100.2 million, USA Today reported.
What do you think about the Chris Paul trade?
Be the first to receive breaking news alerts and more stories like this by subscribing to our mailing list.