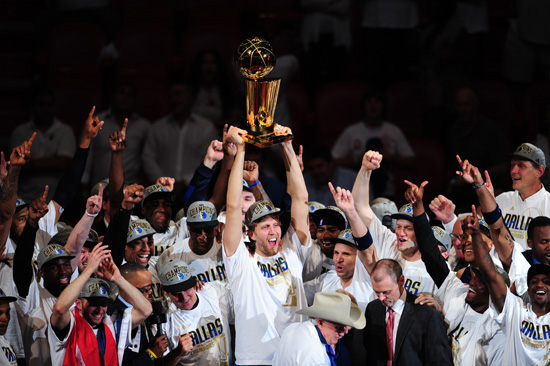 It's over. Dallas won. Miami lost (and only by 10 points).
It's a sad, sad day in South Beach.
Congrats to Dallas though!
Check out a full recap, along with 10+ pics below:
Year One of the Big Three ended with a thud Sunday night for the Miami Heat at American Airlines Arena.

There will be no capping of last July's premature celebration over the free-agency signings of LeBron James, Dwyane Wade and Chris Bosh.

Instead, there will be reflection on nights such as Sunday, when a 105-95 loss to the Dallas Mavericks in Game 6 of the NBA Finals brought down the curtain on the 2010-11 season.

And started a new waiting game, leaving plenty of questions in the wake of this meltdown.

It was a dreary ending, particularly for James, who again proved unable to match the moment. After making his first four shots when he appeared headed to a big night, he instead closed with 21 points on 9-of-15 shooting, seemingly paralyzed by the moment. It was a finish nearly as humbling as being swept out of the 2007 Finals by the San Antonio Spurs while a member of the Cleveland Cavaliers.

None of the Heat's Big Three, in fact, were very big, with Wade closing with 17 points and Bosh with 19.

Mavericks guard Jason Terry, though, was plenty big, keeping Dallas afloat through a 14-0 Heat second-quarter run with 19 first-half points. He closed with 27 on 11-of-16 shooting.

That allowed Dallas to persevere even on a night series Most Valuable Player Dirk Nowitzki, hero of the Mavericks' Game 2 and Game 4 victories, shot 9 of 27 for 21 points.

It ended with Pat Riley watching in stunned silence from across the Heat bench, with the Heat allowing Mavericks owner Mark Cuban to celebrate in their building, with the Mavericks shockingly managing to buy nearly an entire section behind the Heat bench for their fans, much to the apparent chagrin of Heat owner Micky Arison.

It, indeed, was sweet revenge, after losing the 2006 Finals to the Heat in six games.

Even before the opening tip, the Heat acknowledged what they weren't, namely capable of keeping up with the Mavericks' small ball, with starting point guard Mike Bibby benched in favor of Mario Chalmers, and then removed from the rotation in favor of Eddie House.

It was a desperate move at a desperate time, and it wasn't nearly enough, not with James shrinking to depths that will haunt him for months if not years.

Oh there was fight, just not enough.

No sooner did House cap the Heat's 14-0 rally with a 3-pointer to produce a 42-40 lead in the second quarter, then Heat forward Udonis Haslem and Mavericks guard DeShawn Stevenson traded shoves with 6:25 to play in the period, with Chalmers joining in the scrum.

The result was technical fouls on all three, with Nowitzki's ensuing free throw ending Dallas' scoreless streak.

From there, Dallas seized control, the Heat left with little more than hero 3-point attempts against the Mavericks remarkably cohesion zone defense, while struggling much of the night from the foul line.

Earlier, a wild first half that featured a 21-7 first-quarter run by the Mavericks and a 14-0 second-quarter surge by the Heat ended with the Mavericks up 53-51.

Until Sunday, Bibby had started each of the Heat's previous 20 playoff games. House then pushed Bibby, his brother in law, completely out of the rotation, likely the last time Bibby will be seen in a Heat uniform.

Dallas entered aware that home teams have gone 14-3 in Game 7 of the NBA Finals, fighting desperately to avoid such a test.

The Heat entered 9-1 at home this postseason, with that lone previous defeat a Game 2 95-93 loss to Dallas in this series.

Coming off consecutive losses, the Heat ended the season with their first three-game losing streak since March 8.

The Mavericks entered 6-3 on the road this season, having followed Game 3 victories with victories in Game 4 in each of their previous three series, and doing it again in this one.

Mavericks coach Rick Carlisle is now 11-3 in closeout games as a coach, the highest winning percentage among coaches with at least 10 such games.
Who were you rooting for?
Be the first to receive breaking news alerts and more stories like this by subscribing to our mailing list.