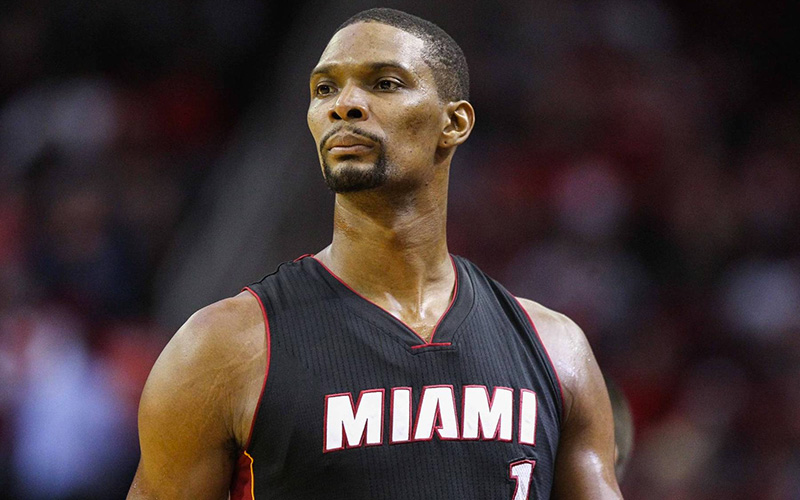 11 time NBA All-Star Chris Bosh may be forced into an early retirement after failing a recent physical. Bosh has always suffered from blood clots, having his last two seasons cut short by the medical condition.
Doctors believe that the blood clotting, which is believed to be in his lung, is related to one of two previous episodes. And while it is not considered life-threatening, the condition would require him to take blood thinner medication.
This kind of medication puts users at the risk of heavy bleeding during physical contact — clearly not an ideal, or safe, situation for an NBA player, or any professional athlete, for that matter.
Due to his condition, it seems like Bosh's career for the Miami Heat is over. Today the Heat released a statement saying that Bosh will likely not suit up again for the team.
Another bout of blood clotting was a significant part of the failed physical, and Bosh's chances of resuming his NBA career are in a perilous state, sources said.

There's been a complete breakdown in communication between Heat president Pat Riley and Bosh, sources said. Bosh has been reluctant to talk with Riley, sources said, although Riley and Heat officials are hopeful for a chance to sit down with Bosh soon and discuss his future.

Riley, owner Micky Arison, and the Heat doctors have been fearful of the potential health risks of Bosh trying to navigate the recurring blood clots with an NBA playing career, and it is unlikely that Bosh will find any team willing to clear him with the grave dangers associated with his health plight."
The news is obviously disappointing for Bosh, who just last week said he was ready to get back on the court and play.
"Things have changed quite a bit for me, but I'm in good spirits," Bosh said Wednesday. "I know things will work out for the best. And really, we're just in the process of making sure that I can get back on the court."
Bosh isn't the only one upset with the bad news. Reactions are pouring in from social media following the announcement:
Chris bosh needs to retire man. I don't wanna see him die tryna play basketball.

— Giovanni (@iNeed30Bandz) September 23, 2016
Chris Bosh failed his preseason physical. The Heat fear his career with them is over. Absolutely heartbreaking to hear.

— NonStopHoops (@NonStopHoops) September 23, 2016
Chris Bosh has been a part of my basketball life since I was 14. He was on the Varsity of Lincoln High my freshman year.

— Big Doncic Energy (@KirkSeriousFace) September 23, 2016
Hoping Chris Bosh somehow finds a way to make it back to the court. The '13 and '14 playoffs and earned him tons of respect from people

— Pounding the Rock (@poundingtherock) September 23, 2016
Feel badly for Chris Bosh, a great player and a class guy, but he should move on. He's got a long life ahead of him.

— Frank Isola (@TheFrankIsola) September 23, 2016
Chris Bosh has to retire. I hate to say it, but your health is far more important.

— Justin. (@JDanso18) September 23, 2016
I admire Chris Bosh's efforts to get back on the court but I also don't think Heat are at fault here. Health is more important than career.

— NonStopHoops (@NonStopHoops) September 23, 2016
Bosh's departure from Miami (and potentially the NBA) means the end all of the "Big Three's" careers in Miami. The super squad the LeBron James assembled in Miami have all left now, with James returning to Miami, Wade headed to Chicago this off season, and now Bosh.
Be the first to receive breaking news alerts and more stories like this by subscribing to our mailing list.