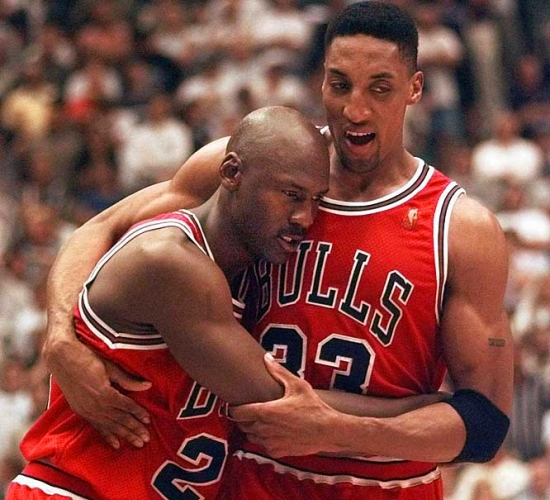 Most of you probably saw the Miami Heat literally demolish the Chicago Bulls in Game 5 of the NBA Eastern Conference Playoff Series last Thursday night (May 26). And some of you might have noticed that former NBA player Scottie Pippen was sitting court side to see Lebron James literally take charge of the game to eliminate the Bulls.
Well the next day, Pippen called into ESPN Radio's Mike & Mike show to give his opinion of the game and Lebron James. He even went so far as to say that Lebron is better than Michael Jordan!
"Michael Jordan is probably the greatest scorer to ever play in the game, but I may go as far to say LeBron James is probably the greatest player to ever play the game," Pippen said confidently. "He's so potent offensively…not only can he score at will, but he keeps everybody involved. You have to be on your Ps and Qs because everybody is a threat to score when he's on the floor. Not only that, LeBron James will dominate the game on the offensive end and he's able to do it on the defensive end as well. He can get in those passing lanes and dominate the game."
Really Pippen?
Lebron James is definitely one of the best players in the NBA today, but he's nowhere near Michael Jordan in any way. Lebron has not even won a title…yet. Even when he does, he will need to do it about 5 or 6 more times, then you can start making your "King James" vs "MJ" comparisons. Honestly, we could see Kobe Bryant being seriously compared to MJ waaay before Lebron.
Anyway, once LeBron caught wind of Scottie's outlandish comments, he had this to say:
"Michael's an unbelievable player. I've got a long way — long way — to be mentioned as far as one of the all-time greats. Not even just Jordan. There's a lot of great players who have played in this league. Larry Bird, Kareem Abdul-Jabbar, all these guys who are floating around with multiple rings, Bill Russell, all these guys who have pioneered this game.

"I'm gracious. Humbled by Scottie's comments, especially with him being a teammate of his and seeing Michael on a day-to-day basis. But as far as me, I'm not going to sit here and say I'm better than Jordan. I'm not better than Jordan."
Well there you have it! We definitely had an opinion on this matter, but Lebron said exactly what we were thinking.
What are your thoughts?
Be the first to receive breaking news alerts and more stories like this by subscribing to our mailing list.