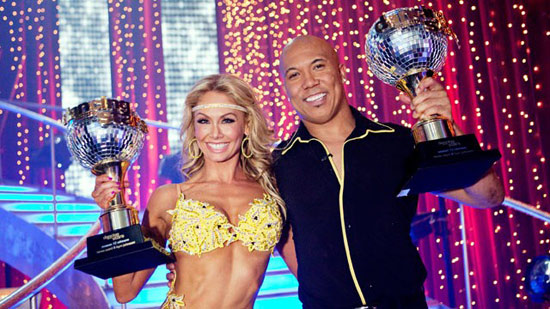 Hines Ward is the "DWTS" champ of season 12 after he and his dance partner Kym Johnson delivered a terrific final performance to win the crowd over.
The NFL star managed to take the crown last night and beat out his biggest competitor on the show Kirstie Alley. "[When] I heard my name…I looked over at Kirstie and I was like, 'Oh geez.' Everybody loves Kirstie!" Ward said. "So it was the fans that carried me through and I couldn't believe it!" He said, before going on to add: "Anyone in this final deserved the trophy tonight. I'm not going to apologize for winning, but…"
Ward is the second NFL player to win the dance competition. Former NFL Hall of Fame running back Emmitt Smith won back in 2006, but Ward was considered by the judges to be the best dancing athlete they have had by far.
So where will he be placing his new trophy? "Right next to the MVP trophy in my house!" Hines stated.
The Pittsburgh Steelers wide receiver also plans on incorporating the routines he learned on "DWTS" to the football field. "I'll be doing a tribute to Kym every time I score a touchdown! I'll incorporate a Dancing with the Stars routine every time I'm in the endzone," he said.
Ward also forewarned future contestants to be prepared for one hell of a work-out and to lose some serious weight. He said, "It's grueling! It's a lot of hard work. So I'd tell people be prepared to work your butt off. And you will lose weight! I lost about 15 pounds!"
Congrats Hines and Kym!
Be the first to receive breaking news alerts and more stories like this by subscribing to our mailing list.