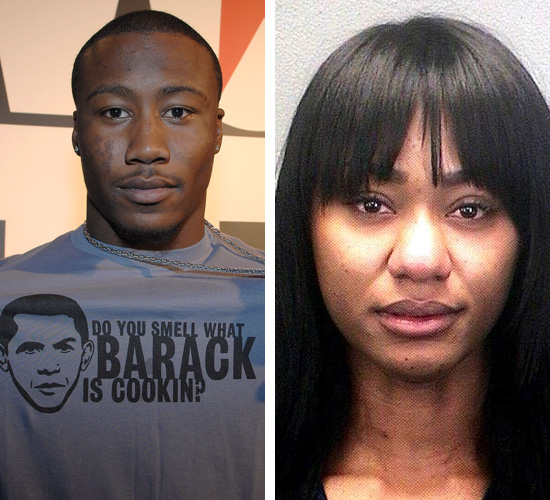 Brandon Marshall — a wide receiver for the Miami Dolphins — was rushed to the hospital over the weekend after being stabbed by his wife Miche Nagomi-Marshall.
Peep the details below:
Dolphins Pro Bowl receiver Brandon Marshall was released from the hospital Saturday after what police said was a domestic-violence incident in which he was stabbed by his wife with a kitchen knife Friday in the Miami area. Marshall's wife, Michi Nogami-Marshall, 26, was arrested Friday by the Broward County Sheriff's Office on a domestic-violence charge of aggravated battery with a deadly weapon. Nogami-Marshall was released from jail on a $7,500 bond Saturday afternoon.

Marshall underwent emergency surgery Saturday morning, league sources told ESPN NFL Insider Adam Schefter. Marshall was discharged later in the day and "expected to make a full recovery," according to his publicist, Denise White. According to the police report, Nogami-Marshall told police she stabbed Marshall in self-defense.

Brandon Marshall initially told police he slipped and fell onto a broken glass vase, but according to the report, police found no blood or evidence to substantiate that statement and said both Marshall and his wife provided little information. Marshall, 27, was taken to Broward General Hospital in Fort Lauderdale by car and underwent surgery late Friday night for a stab wound to the stomach, sources told Schefter.

No vital organs were pierced in the incident, and doctors have told Marshall that he will be OK in two to three weeks, sources said. "This is a very difficult time for Brandon and family, thankfully he will make a full recovery," Marshall's agents, Kennard McGuire and Harvey Steinberg, said in a statement. "We simply ask that his privacy is respected." Dolphins officials say they were told by the league their team doctor is allowed to see Marshall and consult with Marshall's other doctors, despite the NFL lockout.

The Dolphins issued a statement saying: "We are aware of the report, and our thoughts are with Brandon at this time. We will look into the matter, but because we are not allowed to have any contact with any of our players we will refrain from making any further comment." Marshall became engaged to Nogami-Marshall while in Hawaii for the 2009 Pro Bowl. Weeks after the engagement, according to police, the couple was seen hitting and kicking each other outside Marshall's Atlanta condominium.

Charges of disorderly conduct against Marshall and Nogami-Marshall were dismissed the same day when both refused to testify. They met while both were students at Central Florida. They live in Southwest Ranches, which is near the Dolphins' complex in Davie. On Friday, emergency services were called via 911 after Marshall was stabbed but were turned away when the dispatcher offered a ride to the hospital. Instead, Marshall was taken to the hospital in a car.

According to Broward County Sheriff's public information officer Veda Coleman-Wright, Nogami-Marshall was arrested at the couple's home. Nogami-Marshall did not drive Marshall to the hospital, according to police, but it was not clear who did or who called 911.
Be the first to receive breaking news alerts and more stories like this by subscribing to our mailing list.