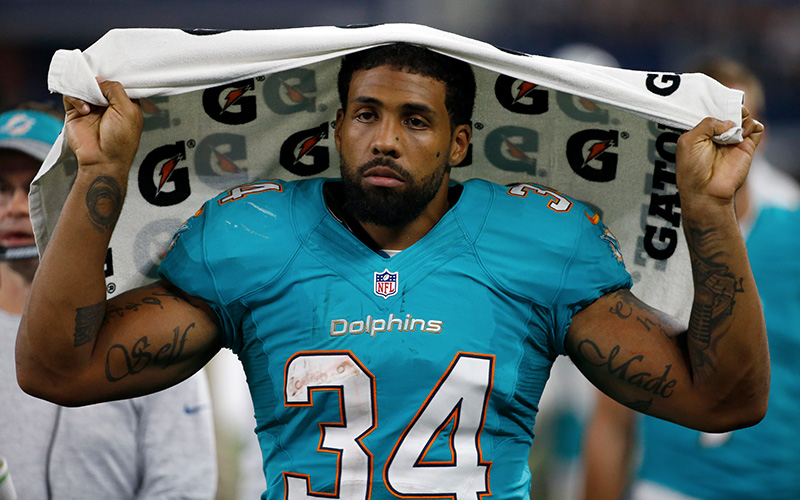 If you've ever played fantasy football and owned Arian Foster, you understand the struggles that he has experienced his entire career. When healthy, he's been one of the best running backs in the league. The problem is he's rarely stayed healthy for long.
Well, after eight seasons, Miami Dolphins running back Foster has decided that "there comes a time in every athlete's career when their ambition and their body are no longer on the same page. I've reached that point." That's right, via a tweet from Uninterrupted, Foster has announced his retirement — effective immediately.
BREAKING NEWS: @ArianFoster announces his retirement on UNINTERRUPTED. His story on why he's walking away. pic.twitter.com/FK09XpkqUo

— UNINTERRUPTED (@uninterrupted) October 25, 2016
The news comes amidst the rising value of his backup, Jay Ajayi, who has busted out for two great games in a row. For Foster, however, the decision didn't come easy. "It's hard to write those words," he says, "because this game has been everything to me."
It's unfortunate to see such a great talent have his career cut short because of injuries. The four-time Pro Bowler amassed over 6,000 rushing yards and 54 touchdowns, and those stats would've been even more impressive had he managed to stay healthy.
But the simple fact is he couldn't. Foster has always struggled with injury issues, and as a football fan that's tough to watch. But as a human, his decision to step away from the game is completely understandable.
Because while we'd all love to continue to watch him dominate the game when healthy (and rack up those fantasy points) he has the rest of his life to think about. And a life with crippling injuries isn't worth a few more years in the NFL.
And the way he worded it should let every fan know that this is the best move for him. "I am walking away in peace."
As a football fan and multiple fantasy football Foster owner, all I can say is good luck in your next venture, and your undeniable talent will be missed.
Be the first to receive breaking news alerts and more stories like this by subscribing to our mailing list.