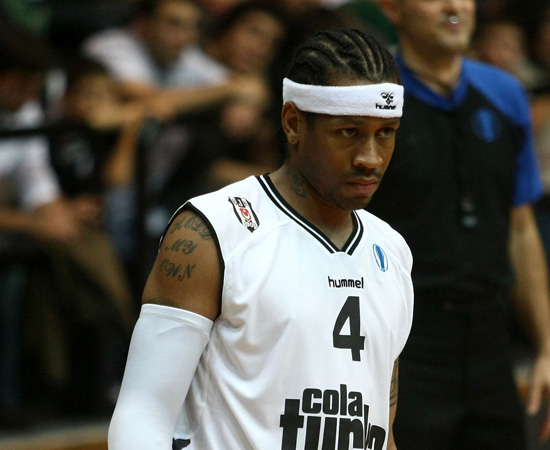 Last week in Atlanta, former NBA great Allen Iverson had his precious Lamborghini towed … which didn't sit too well with the old NBA MVP.
Find out why the po-po towed AI's lambo, (along with his reaction) below:
First of all, the expired tags the car was pulled over for in the first place, have been expired since 2009. There's no reason why a millionaire should be on the road in a vehicle with expired tags. It's not like he can't afford it.
Second of all, Iverson and the driver of his vehicle, Antwuan Clisby, were driving around in a car with no documentation in it. How stupid is that? But wait, it gets worse.
When Clisby told the officer that his passenger (Iverson) had to make it to a 6 PM dinner, the officer told him no one was leaving until the investigation was complete. That's when Iverson became "irate," and the officer called for backup. And that's never a good thing.
When Iverson was told that the Lamborghini would be towed, however, is when he lost it according to CNN.com:
"Take the vehicle, I have 10 more," Iverson said, according to the report. "Police don't have anything else (expletive) to do except (expletive) with me." He then asked, "Do you know who I am?"

The officer wrote in his report that "For the next 20 minutes, Mr. Iverson went on and on about who he was. I stated to Mr. Iverson, 'It really doesn't matter who you are. You tried to conceal your vehicle with a fake drive-out tag due to you not paying for your tags.' "

Iverson then said, "I make more money than you will in 10 years," according to the report.
Real class act right there. Need more like him.
Be the first to receive breaking news alerts and more stories like this by subscribing to our mailing list.