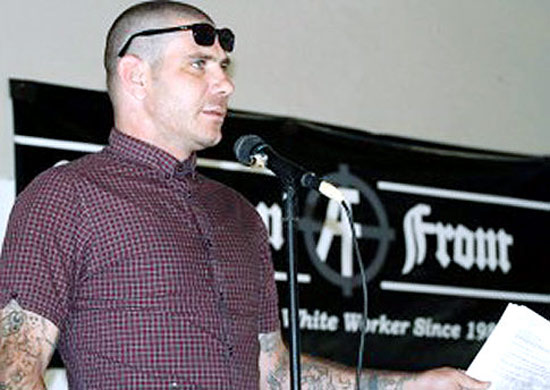 There are going to be "some" people upset about this one……(Notice how we put quotes around some)
Read below:
One of the country's most notorious white supremacist leaders has been shot dead, authorities said Thursday.

David Lynch, 40, was found with bullet wounds in his head and upper torso in his Sacramento home early Wednesday morning. His 33-year-old girlfriend, who is five months pregnant with their child, had been shot in her leg. She is expected to survive.

Citrus Heights police told the Sacramento Bee they detained "person of interest," Charles Gilbert Demar III, a 36-year-old tattoo artist who is a close friend of the skinhead leader. Demar was not arrested for homicide following an interview with authorities but he was booked in the Sacramento County jail on an unrelated narcotics charge. The motive behind the shooting is still under investigation, and police said there were no suspects and no one was being held in connection with the shooting.

Lynch was the leader of the American Front, which according to the Anti-Defamation League is one of the "oldest continuously active racist skinhead groups in the United States." He began working as an organizer for the group in the 1980s. "The group espouses an anti-Semitic, white supremacist ideology and disseminates its message in public events that demonize Jews, immigrants, and other minorities," the ADL says on its website.

Lynch's acquaintances told The Bee that Lynch was working as an asbestos removal contractor. The doormat in front of his home read, "Come back with a warrant." Local gang expert Lt. Milo Fitch described Lynch to CBS News as "one of the most well known and influential figures in the white supremacist movement."

"This is a significant event in the white supremacist world – it will send shock waves," he added.
Like mama use to say….if you don't have anything nice to say, don't say nothin at all! **Zips mouth closed**
But what are YOUR thoughts?
Be the first to receive breaking news alerts and more stories like this by subscribing to our mailing list.