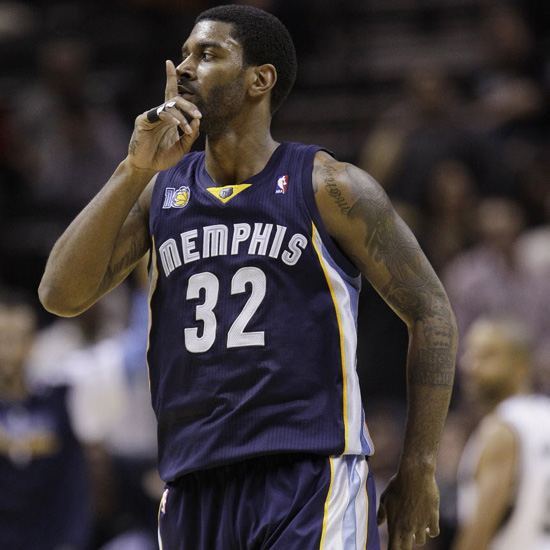 Memphis Grizzlies basketball player O.J. Mayo has been suspended for 10 games without pay for violating the NBA's anti-drug program after the guard failed a drug test. The league announced that Mayo tested positive for dehydroepiandrosterone (DHEA) and his suspension will start tonight when the Grizzlies take on the 76ers in Philadelphia.
According to ESPN, Mayo will be forced to forfeit over $400,000 of his annual salary due to his violation. The 23-year-old West Virginia native said in a statement released by the team that he is extremely disappointed that he will miss 10 games as the Grizzlies are on their way to the playoffs, and says that he made an "honest mistake," however he takes "full responsibility" for his actions.
"It was an honest mistake, but I take full responsibility for my actions," Mayo said in the statement released by the team. "I apologize to my fans, teammates and the Grizzlies organization for regrettably not doing the necessary research about what supplements I can put in my body."
DHEA is a legal, mild steroid "precursor," which means that it isn't EXACTLY a steroid, however, once you take it, it converts into one as it passes through your system. Though the over-the-counter drug is banned by most sports leagues, including the NBA, anyone can buy it because it's not controlled as a substance by the Drug Enforcement Agency.
Grizzlies owner Michael Heisley said that Mayo will continue to practice with the team throughout his 10-game suspension.
"O.J. had a lack of judgment but has shown complete accountability," Heisley said in a statement. "We will continue to support O.J. during this time as we have from the moment he joined the team in 2008. He has unselfishly done everything we have asked of him, and we expect him to grow as a player and a person from this experience."
O.J. Mayo will be allowed to return on February 15th when the Grizzlies play against the Philadelphia 76ers on their home court in Memphis.
Your thoughts?
Be the first to receive breaking news alerts and more stories like this by subscribing to our mailing list.