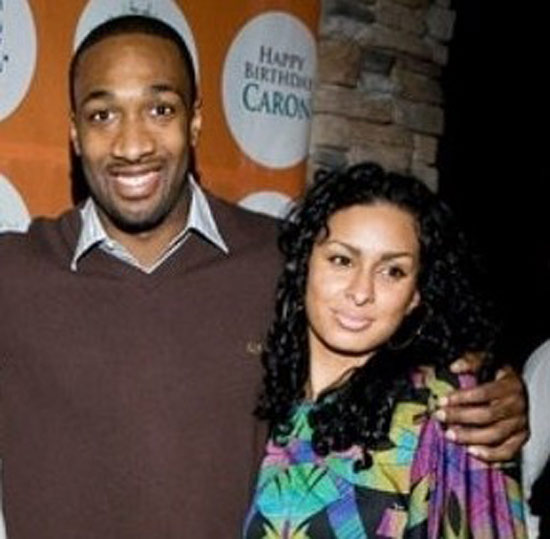 Gilbert Arenas is back on some more bullsh**!
According to the Washington Post, the NBA star has abandoned his (pregnant) fiancee Laura Govan, along with their three kids, since being traded to the Orlando Magic. The dude didn't even buy his kids any Christmas gifts!
Peep the full story below:
The nine-year relationship of Gilbert Arenas and Laura Govan has been a famously stormy one – breakups interspersed with reunions, babies and one elaborate marriage proposal.

But this time, with the former Washington Wizards star's recent departure for Orlando, the drama appears to have gone nuclear. A representative for Govan – yes, there are reps involved this time – told The Washington Post that Arenas has cut off communication and funds from her and their three children. Govan, who is four months pregnant with their fourth child, "has not heard from Arenas the whole month of December," said publicist Laura Wright in an e-mailed statement. "Govan and the children feel like they have been abandoned."

Wright – who has worked for Govan's sister Gloria and her fiance, Los Angeles Lakers forward Matt Barnes – said that Govan was left at their Great Falls home "with no money to purchase food or Christmas gifts." A representative for the Orlando Magic, playing in Cleveland on Tuesday night, said they had not been able to reach Arenas for comment by press time. The breakup happened around Thanksgiving. Though he didn't reveal a relationship rift at the time, Arenas recently told reporters he had been staying with Wizards teammate Nick Young for about a month.

Other public comments, when the Wizards traded him to the Orlando Magic on Dec. 18, seemed like jokes or exaggerations at the time. He told The Post after his Dec. 20 debut with the Magic that he was so eager to move that he bought a same-day ticket to Florida the minute he'd heard about the trade: "I went to the airport and left. I didn't have a chance to say bye to anybody. I didn't even say bye to the kids." (But Arenas also said that Washington would remain "in my heart" because "that's where I raised my kids and have my family.")

Arenas, 28, and Govan, 31, were known in Washington as high-flying homebodies, rarely out on the town and mostly known through the comical stories he shared on his short-lived blog – like the time he hired an FAO Schwarz window dresser to set up the train set he bought for the kids.

Behind the scenes, their relationship has often been tumultuous: After a few years of on-off dating, she gave birth to their daughter Izela in December 2005; the bitter child-support battle that followed ended with a romantic reconciliation a few months later. They welcomed a son, Alijah, in March 2007. After another breakup and makeup, they got engaged in September 2008 at a splashy family party with ice sculptures and a moon bounce (yes, he blogged about it). Last December – just weeks before the guns-in-the-locker-room incident that foreshadowed the end of his Wizards career – their daughter Hamiley was born.
Gilbert Arenas, you ain't sh*t! What kind of father just leaves his family high and dry like that, ESPECIALLY during the Holidays??? Shame on you!
Thoughts?
Be the first to receive breaking news alerts and more stories like this by subscribing to our mailing list.