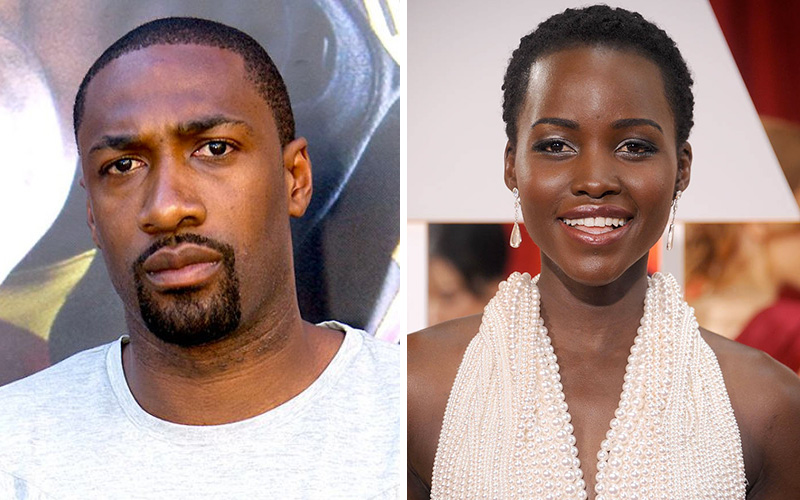 When are black men gonna learn not to come for black women?! The week began with Tyrese getting dragged on Twitter for misogynistic comments and it ends with "no chill Gil" Gilbert Arenas hopping on Instagram and declaring dark skin women are not beautiful.
The NBA player came across a meme in the ProBlkThought Instagram meme, which read "Dear Black Girl: You don't have to be mixed to be beautiful."
Arenas was compelled to comment and wrote, "How black we talking?? Not to be funny can you name a beautiful black woman on the outside … not brown skin … like Tyrese black."
He went on say that only a few dark-skinned women rank in the top 50 most beautiful, name-dropping Serena Williams and Gabrielle Union. However, Oscar winner Lupita Nyong'o — who was named People magazine's most beautiful person of 2014 — is only "cute when the lights are off."
Social media gathered Arenas real quick and also offered receipts of beautiful dark-skinned women.
When did we as the black collective elect #gilbertarenas our resident "melaninologist"? I was absent at that mtg,so IDGAF about his stance.

— NB (@NBurns716) April 14, 2017
https://twitter.com/WickedBeaute/status/853008618458894341
Gilbert Arenas BETTER RESPECT ALL THIS MF MELANIN #RespectTheMelanin #BlackGirlMagic pic.twitter.com/1cYcAd1hzu

— Mrs. Gabriel (@MrsGabie) April 14, 2017
Gilbert Arenas is a clown. He's illiterate, doesn't even know the correct use of parentheses so…his opinion is null & void.

— Jack Meoff (@PrissyPremadona) April 15, 2017
Gilbert Arenas: "Can you name a beautiful dark skinned woman"

Me : pic.twitter.com/RVDPHTXd7E

— Tee (@TNiCE252) April 14, 2017
https://twitter.com/spiritmefree1/status/853028453901381633
Um??? #GilbertArenas pic.twitter.com/CWiTHsMzWP

— T.el (@CallMeTi) April 15, 2017
I [not so] lowkey want all these clowns like Gilbert Arenas who don't want a black women to just go get something else and STFU. PLEASE.

— Charles F Coleman Jr (@CFColemanJr) April 15, 2017
After the much-deserved Twitter dragging, Arenas posted what he called an apology. He said he misinterpreted the meme and thought it somehow criticized mixed women. He took this personally because he has mixed children.
He wrote in part:
"I never say sorry for the shit I say but it's my fault I read this wrong and got into my feelings… I f*cked this up so I deserved the hatred that comes….I was trying to defend all shades of black but that's what the post was also doing…I ended up pulling a COON moment…sorry all shades of black women no need to forgive me Im pretty sure I'll say some fucked up shit probably in two weeks (I know p*ssy prices about to double up on my ass from black women)
https://www.instagram.com/p/BS364GXgck1/
However, his weak apology got even worse as he made a second slick comment about Nyong'o. "And as for lupita she ain't cute to me sorry…just like I'm not cute to 95% of u…"
To be frank, it's very hard for me to think this "apology" is genuine. It's also hard for me to believe Arenas actually misinterpreted the meme. The intent of the message was clearly stated and was posted on a page named "Pro Black Thought."
Furthermore, his explanation doesn't even make sense. Not once in his original comments did he defend dark-skinned or mixed women. In fact, he said it was a struggle to find beautiful dark-skinned women.
Arenas has made sexist comment in the past and he will probably continue to do so. At least we know social media will always be quick to get him together.
Be the first to receive breaking news alerts and more stories like this by subscribing to our mailing list.