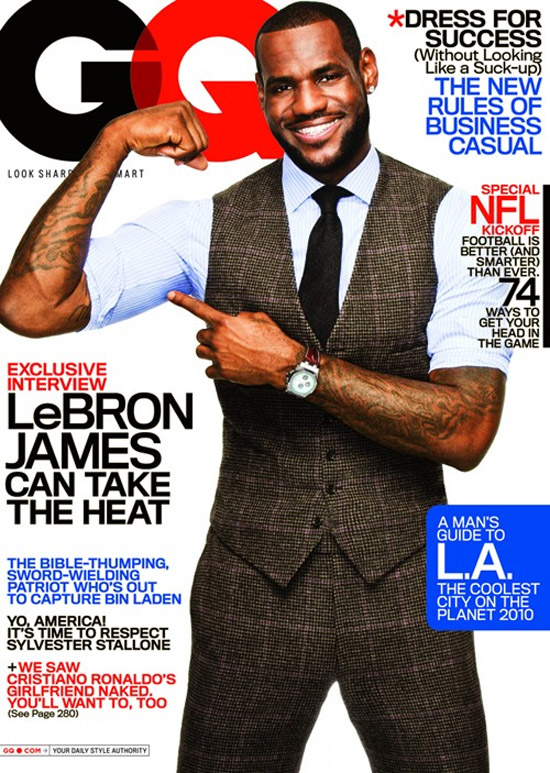 You've heard practically everyone trashing LeBron James lately for choosing to announce his decision to move to the Miami Heat via a press conference. (Some even trashed the player for making the move in the first place!) ….. And now the NBA baller is telling his side of the story in the latest issue of GQ Magazine.
LeBron James covers GQ's September 2010 issue and in his feature, LBJ talks about how his family and friends support him all the way no matter what:
"They're happy to see my happy. That's what they can see in my face. They say, 'It's been awhile since we've seen you look like that.'"
Peep other highlights from King James' GQ cover feature below:
James on how a kid could from Akron, located only thirty minutes from Cleveland, could grow up rooting for Chicago and Jordan:
"It's not far, but it is far. And Clevelanders, because they were the bigger-city kids when we were growing up, looked down on us.… So we didn't actually like Cleveland. We hated Cleveland growing up. There's a lot of people in Cleveland we still hate to this day."

James on Cavs owner Dan Gilbert:
"I don't think he ever cared about LeBron. My mother always told me: 'You will see the light of people when they hit adversity. You'll get a good sense of their character.' Me and my family have seen the character of that man." He went on to say that Gilbert's post-Decision screed "made me feel more comfortable that I made the right decision."

James on Charles Barkley, who's been hyper-critical of James's decision to share the limelight—and the scoring burden—with Dwyane Wade and Chris Bosh in Miami:
"Charles was probably trying to be funny. It wasn't funny to me."

Source: GQ
Be the first to receive breaking news alerts and more stories like this by subscribing to our mailing list.