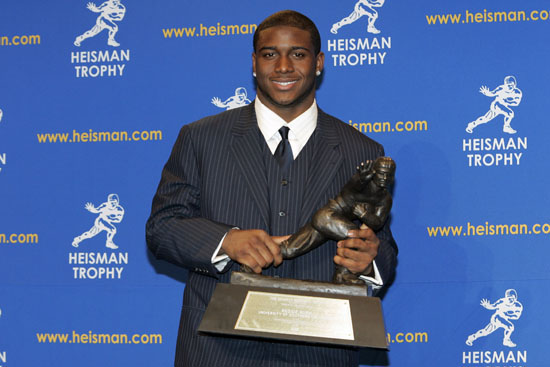 Poor Reggie Bush. First he lost his beauty and gained a bald-headed beast, and now he's lost a piece of his football history.
The NFL player recently became the target of a scandal involving him allegedly receiving a car, a house for his family and a host of other benefits while playing for the University of Southern Carlifornia's football team. The NCAA discovered all of this after an investigation on the team awarding the New Orleans Saints Running Back with a ton of improper benefits for his stellar performance in the Trojan football program.
So in an effort to clean up their tarnished image, USC's Athletic Department announced this week in a memo that their Athletic Director Mike Garrett would be let go and Reggie Bush's Heisman trophy will be sent back to the Heisman Trust, in addition to other measures to dissociate the program from the Super Bowl 2010 winner:
The Trojan family honors and respects the USC sporting careers of those persons whose actions did not compromise their athletic program or the opportunities of future USC student-athletes. Accordingly, I have instructed the senior vice president for administration to remove athletic jerseys and murals displayed in recognition of O.J. Mayo and Reggie Bush by mid-August — before the incoming class of students moves on campus — from Heritage Hall, the Galen Center and the Los Angeles Memorial Coliseum. The university also will return Mr. Bush's 2005 Heisman Trophy to the Heisman Trophy Trust in August.
The NCAA recently placed USC on four years' probation after discovering that Bush and former basketball star O.J. Mayo had received improper benefits, which means that their athletic department would also receive a two-year postseason ban and major scholarship reductions. In addition to slapping the school with heavy penalties, the NCAA also cited Garret's administration for a lack of institutional control.
Bush's Heisman trophy has been on display alongside trophies won by other football legends, including O.J. Simpson, former Athletic Director Mike Garrett, Marcus Allen, Charles White and more, and it, along with anything else related to his participation in their well-known football program, will be removed by the time students arrive on campus next month.
Isn't it funny how they still have O.J. Simpson's stuff on display though?