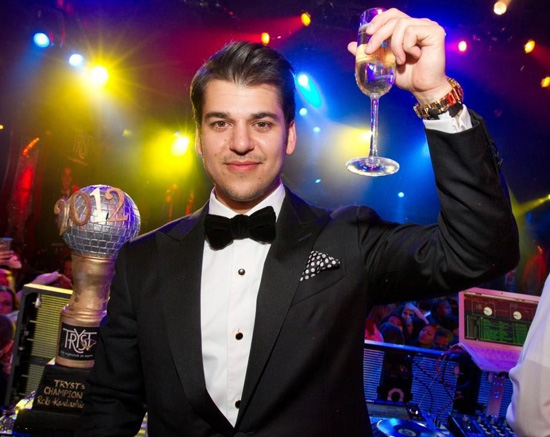 Party boy Rob Kardashian, who gets teased a lot by his older sisters about being job-less, recently tweeted that he would be heading back to college — at the University of Southern California — to attend law school.
Going to Law School very soon and so excited and can't wait! School just never ends for me! #UniversityofSouthernCal #Trojans #FightOn

— Rob Kardashian (@RobKardashian) August 7, 2012
For Rob, a graduate of USC's Marshall School of Business, going to law school would be following in the footsteps of his late father Rob Kardashian Sr, who was famous for being part of O.J. Simpson's legal team.
Rob and his older sister Kourtney, who graduated from the University of Arizona in Tucson in 2002, are the only two Kardashian children who have earned a college degree … so going to law school and furthering his education would be a pretty big deal for the lone Kardashian son.
But it looks like Rob spoke too soon about attending law school at USC. A rep for the USC Gould of Law said (via Twitter) that they haven't even received an application from the reality star.
A rep for the school confirms to The Hollywood Reporter that Kardashian has not yet filled out an application. "Rob Kardashian is not coming here, but we wish him luck at law school," one tweet, aimed at several gossip outlets, stated. "Rob Kardashian hasn't even applied to USC Law," read another.
Rob has yet to respond to the snafu. His latest tweet (at the time this post was published):
So I'm about to tell you all the best bagel to make… Plain bagel. Melted butter on top. LOADS of cinnamon & sugar on top. TRUST ME.

— Rob Kardashian (@RobKardashian) August 8, 2012