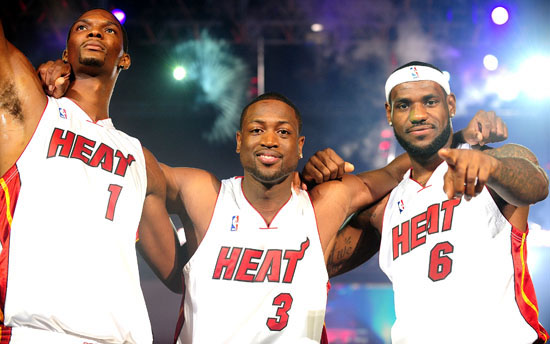 Miami Heat newcomers LeBron James (#6) and Chris Bosh (#1) showed off their brand new jerseys with their new teammate Dwyane Wade (#3) as the trio attended the Heat Summer of 2010 Welcome Event at American Airlines Arena in Miami, Florida Friday night (Jul 9). The city of Miami is very proud to have three of the best player in the league on their basketball team and presented the guys with three keys each to the cities of Miami, Miami Beach and Miami-Dade County.
After being welcomed to the stage by excited fans who chanted "Yes We Did!" and an announcer who donned Miami's American Airlines Arena "Dwyane Wade's House," "LeBron James' Kingdom," and "Bosh's Pit," LeBron James spoke on Dan Gilbert's strongly worded open letter to Cavaliers fans:
"I really don't have a reaction to what Dan said. When things hit the fan, you see a guy's true colors, and I understand that. I wish the organization the best of luck and I wish the fans the best of luck, because I still do love those fans … Dan's comments are not going to stop me and my family from sleeping at night. It just won't do it. I understand now I made the right decision. And to hear my former owner's comments, I also understand I made the right decision."

via Baller Status

According to recent reports, Wade, James and Bosh all signed 6-year contracts with the Heat. James and Bosh signed for $110 million while Wade's contract is worth $107 million. Peep a few pics of King James, D. Wade and Chris Bosh the Heat Summer of 2010 Welcome Event in Miami below…
Be the first to receive breaking news alerts and more stories like this by subscribing to our mailing list.