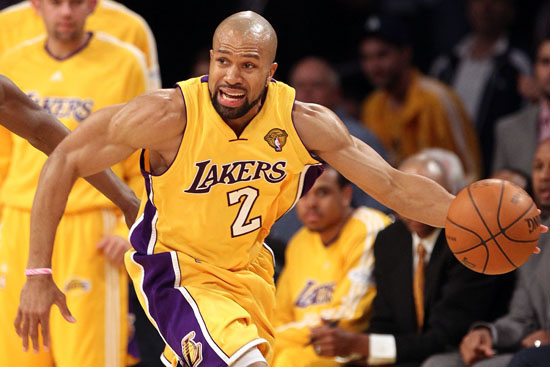 Even after getting their star player Dwyane Wade to stick around and scoring LeBron James and Chris Bosh as brand new additions, the Miami Heat still aren't done recruiting new team members. Word on the sidewalk is that Los Angeles Laker Derek Fisher is being courted by several members of the Heat organization (including team players) to join their roster for the next season. Miami Heat president Pat Riley met with Fisher Saturday (Jul 10) but he declined to comment on what went on behind closed doors.
Fisher, who has 5 championship rings, is currently a free agent and is shopping around for the best deal. He's said to already have an offer on the table from the Lakers but we hear it isn't the best deal, so Miami might actually have a chance with him!
Fisher has been a Los Angeles Laker for some time now and has taken part in all five of their championships in the Kobe Bryant Area. After they won their second straight title last month, Fisher said that he would come back to L.A. while Bryant declared that he wouldn't allow his teammate to play anywhere else. So it will definitely be interesting to see what decision Derek Fisher makes in the end.
Guess we'll just have to wait and see…
Your thoughts?
Be the first to receive breaking news alerts and more stories like this by subscribing to our mailing list.