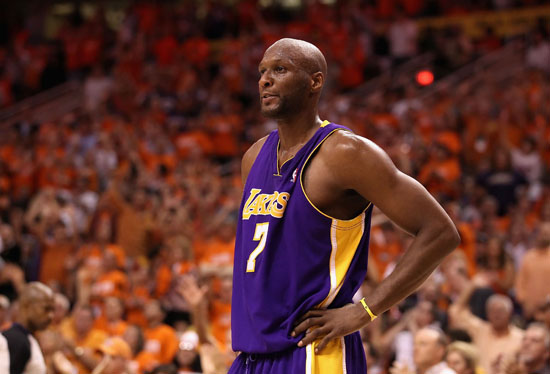 With just two games left in the 2010 NBA Finals, this is not the time to be calling in sick. Especially when the standings (3-2) aren't in your favor!
Los Angeles Laker Lamar Odom says he started feeling under the weather Saturday and his flu symptoms didn't let up in time for Game 5 against the Boston Celtics Sunday night (Jun 13). But the 30-year-old NBA player says he isn't letting a little sickness keep him from his A-Game:
"I haven't been sick all season … now I'm sick in the Finals," Odom said after the Lakers' 92-86 loss to the Celtics. "Had to put my hard hat on just to get out of bed. It was tough. "I'm not feeling good, but I'm not making any excuses. I've just got to be ready to play."
But despite his health, Lamar is ready for the Lakers to return home to Los Angeles Tuesday night (Jun 15) for Game 6.
"We get to go home and I'll be in my own bed in my own house," Odom said. "And get to see my wife."
Be the first to receive breaking news alerts and more stories like this by subscribing to our mailing list.