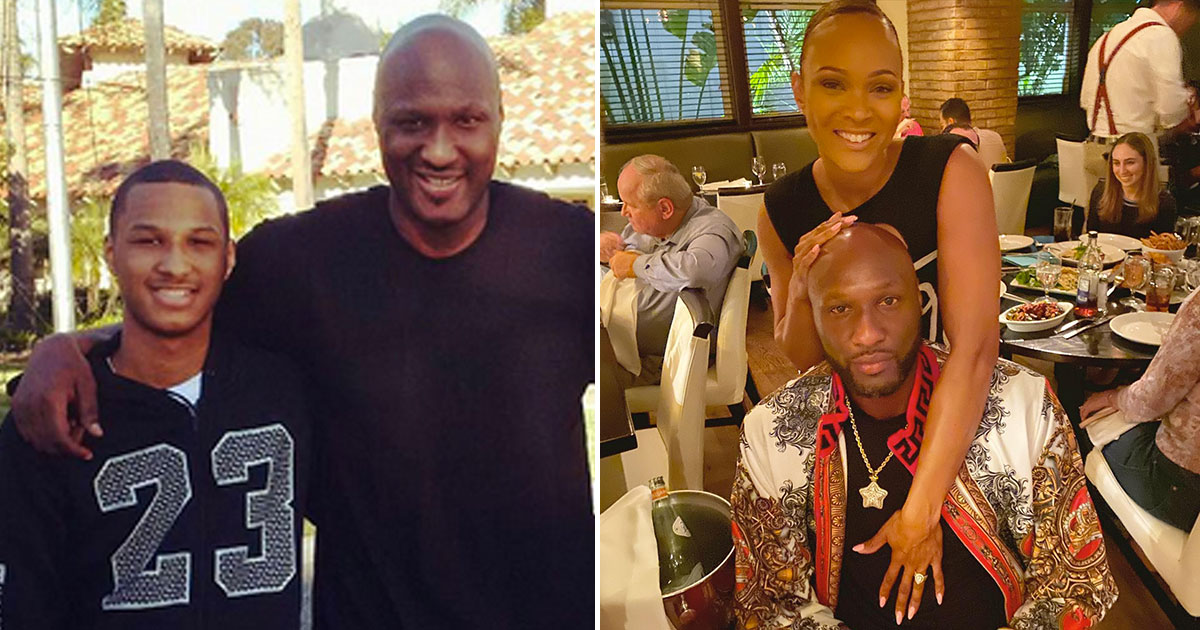 Lamar Odom says he finally found "the one." The former NBA star just announced his engagement to girlfriend Sabrina Parr after just four months of dating.
Odom, 40, shared the news on Instagram on Monday (Nov. 11), along with a photo. He popped the question while dining in in the Miami restaurant, Prime 112. Parr is seen sporting a large diamond engagement ring.
"Introducing my new fiancée!! Soon to be Mrs. Parr-Odom," he wrote on the Gram, "She the ONE!!!!!"
https://www.instagram.com/p/B4v4pxJgnQa/
Parr, 32, a health and life coach also showed off her massive ring on Instagram with a series of videos and photos. "I SAID YES!!!!!" she wrote.
https://www.instagram.com/p/B4v4544pHf-/?utm_source=ig_embed
Odom and Parr just went public with their relationship in August. He expressed his love for her in an IG post in October, and admitted this is "the most serious and committed" relationship he's ever been in.
He wrote in part:
"[T]his is the most serious and committed relationship I've ever been in with a woman. I'm tired of people asking me questions about my ex's based on old interviews and old comments! I said what I said then based on where I was in life at that time. I was young, wasn't sober and going through a lot. All of that is different now."
Though Odom and Parr are on their way to wedded bliss, not everyone is happy about it. Odom's 17-year-old son Lamar Odom Jr. blasted his father for the quick engagement.
In a now-deleted commented under his father's post. Lamar Jr. expressed his frustration that Odom announced the engagement on social media before telling his family. The son also revealed that none of Odom's family or friends are particularly fond of Parr.
"Not a text or a phone call to see how people who've known this dude his whole life to see how we would feel or react. Knew shawty for 4 months and already got you twisted. Fam[ily] n friends already don't approve of homegirl but already she got your a** in a sunken place. Shame family gotta find out on social media but that's been how life been all the time as the son of an Odom."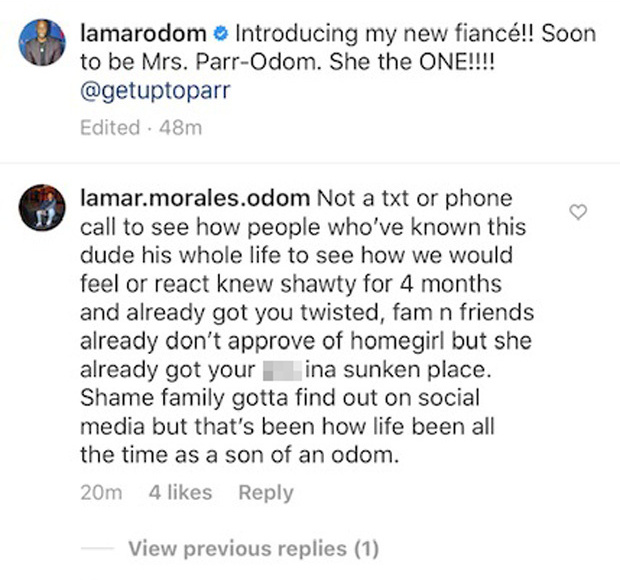 Odom has had a strained relationship with his children in the past. Based on his son's comment, there's definitely more work to do. Lamar Jr. last posted a photo with his father during Christmastime of 2017.
Odom was previously married to Khloe Kardashian. The two tied the knot just one month after they met. The marriage lasted four years; their divorce was finalized in 2016.
Be the first to receive breaking news alerts and more stories like this by subscribing to our mailing list.