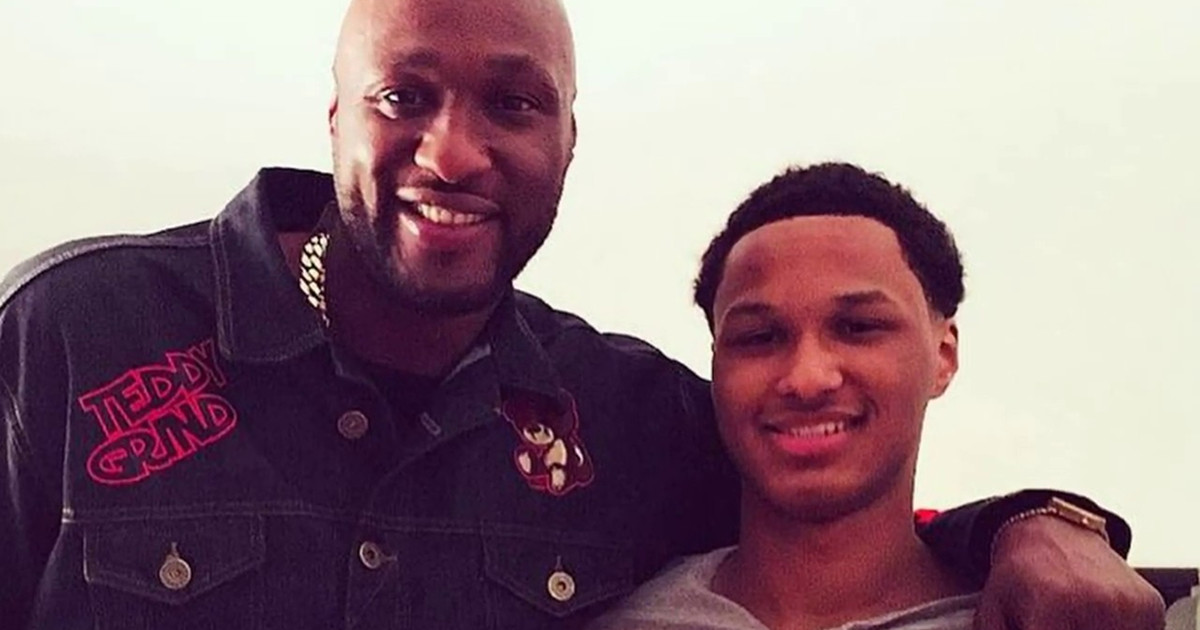 Lamar Odom Jr. is offering a public apology to his father for his initial reaction to his recent engagement.
The 17-year-old posted a message on his Instagram today (Nov. 11) explaining the comment he left on his father's post announcing his engagement to Sabrina Parr.
Lamar Jr. admitted that he was "hurt" and "emotional" after learning about the engagement through social media, but added that he has "nothing but love" for his father.
"Last night I was emotional seeing my father got engaged through social media. I was hurt and caught off guard," he wrote.
"I have to be responsible for what I post, I have nothing but love for my dad and want what's best for him."
https://www.instagram.com/p/B4xIYYzFPQj/
Lamar Odom shocked fans (and apparently his family) by announcing his engagement to Parr via Instagram on Monday. The couple have only been dating for four months.
Lamar's son commented on the post and had harsh words for the quick engagement.
Lamar Jr. was upset that Lamar Sr. did not inform his family before taking to social media and also stated that none of Lamar's family or friends even like Parr.
"Not a text or a phone call to see how people who've known this dude his whole life to see how we would feel or react," Lamar Jr. wrote. "Knew shawty for 4 months and already got you twisted. Fam n friends already don't approve of homegirl but already she got your ass in a sunken place."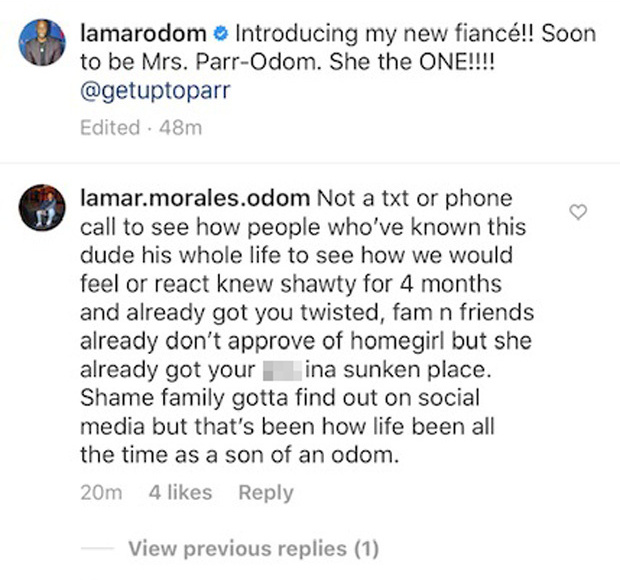 Lamar Jr. later deleted the comment.
Though Lamar Sr. has yet to comment on his son's reactions, the former L.A. Laker is fully committed to Parr has no problem expressing his love for her.
"Outside of my daughter, this is the most serious and committed relationship I've ever been in with a woman," he wrote in an Instagram post in October.
Be the first to receive breaking news alerts and more stories like this by subscribing to our mailing list.