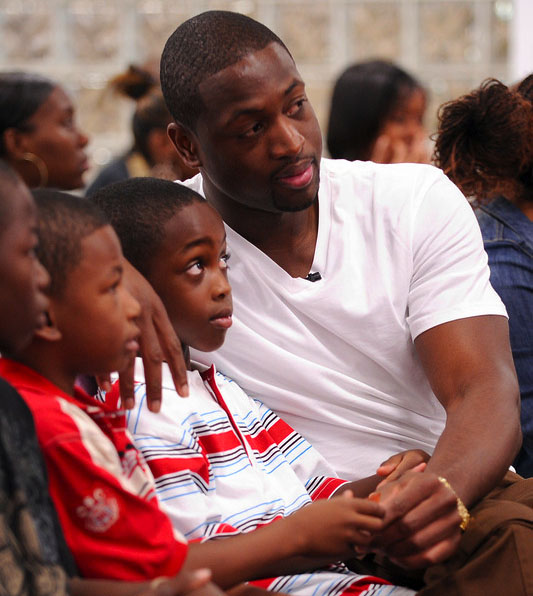 Amidst his on-going divorce battle against his soon-to-be ex wife, NBA player Dwyane Wade has been granted temporary custody of his two sons Zaire and Zion, who are 8 and 3 years old respectively (the youngest just celebrated a birthday last week).
A judge in Chicago awarded the Miami Heat star with "physical possession" of his sons Wednesday (Jun 2) after courts found that his time for visitation with the children had been disrupted by their mother (and his estranged wife) Siohvaughn Wade on several different occasions.
The court cited three instances (1 in March, 2 in May) where Siohvaughn made it extremely difficult for Dwyane to pick up the boys, the last happening when she allegedly wouldn't open the game to her home to let him in.
"The Court is troubled by the continuing pattern of (Siohvaughn Wade) to obey court orders when they go her way and disobey court orders when they do not," wrote Associate Judge Fe Fernandez in the order. Dwyane Wade is not only seeking a divorce, but full custody of the boys.

Before leaving Miami on Tuesday, the NBA star said he was looking forward to spending as much time as possible with the boys, saying settling four civil cases at once in South Florida allowed his sons "to get their daddy back" for the summer. Siohvaughn Wade's last listed attorney did not immediately return a call seeking comment. (GOT Note: Probably because she quit!)

Another hearing is scheduled for later this month on both the divorce and custody cases. Wade is hopeful the divorce can be granted perhaps as early as late June, and the custody trial has been scheduled to begin July 19 in Chicago. Wade is expected to exercise his right to become a free agent on July 1, and has said he wants to remain with the Heat.

SOURCE

Wow… isn't it interesting how the tables have turned on Mrs. Wade? When their marriage went downhill, she did a good job of trying to make Dwyane look like the bad guy, but now it's beginning to look like she was the problem all along! She's just plain crazy! SMH…
Be the first to receive breaking news alerts and more stories like this by subscribing to our mailing list.