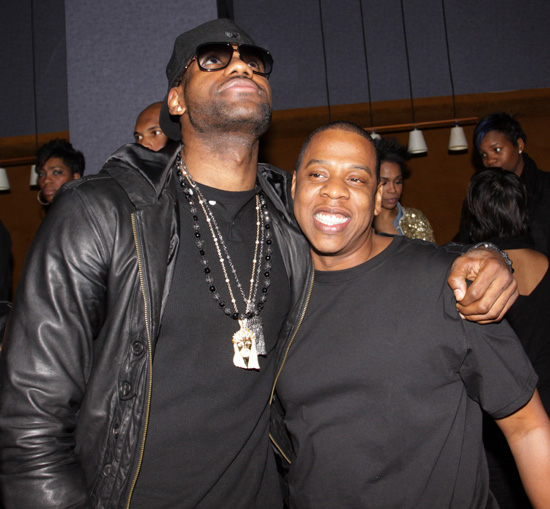 Rapper Jay-Z always feels the need to speak out on something…. whether it's the death of auto tune or Lil Mama jumping on stage during his "Empire State of Mind" performance. Well this time it happens to be about Cleveland Cavaliers basketball star, Lebron James. The Roc Nation CEO expressed his views on the Cavaliers' lost to the Celtics this week on the Stephen A. Smith's Fox Sports Radio Show.
"The first thing I would say is, never really underestimate the heart of a champion … Like, Boston just won a championship two years ago, and it was a great story for everyone to dismiss them and just say, 'This is going to be an easy series.' I think LeBron and the Cavs — because they're basketball players, they're not into media sensation — they knew this was going to be a war and a tough series.

"I think Boston got healthy at the right time, and I think the fact that a lot of them were out a lot of the year, it kind of worked in their favor, because a lot of them are rested," Jay continued. "They're rested and they're healthy at the right time, and this is a champion just two years ago. … So this is not like a 16 seed; this is a real team. And [Celtics point guard Rajon] Rondo is playing like [onetime Celtics star] Nate Archibald or somebody, man. Who is this guy?"
Jay-Z also spoke on his relationship with New York Nets owner Mikhail Prokhorov and his future involvement with the franchise.
"I sat down with him, and we had a fantastic conversation, and there were things that I really wanted to make clear: that I wanted to be an active owner and this is something I really care about. It's not just a name cachet for me," Jay said. "It's just a thing that I love. I love sports. Everybody was happy about what I was saying, so it looks like I'll be taking a more active role in what's going on. … Should be fun."
Be the first to receive breaking news alerts and more stories like this by subscribing to our mailing list.