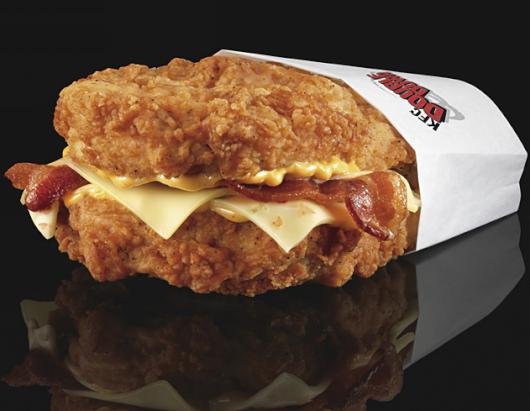 Wow, KFC! Seriously?!
Ladies and gentlemen… meet KFC's newest menu item: "The KFC Double Down!"
KFC's new Double Down sandwich, which hits stores nationwide today, has been buzzed about since its ingredients were revealed. The Double Down is essentially a sandwich with two chicken fillets taking the place of bread slices. In between are two pieces of bacon, melted slices of Monterey Jack and Pepper Jack cheese and a zesty sauce. The sandwich will pack 540 calories, 32 grams of fat and 1,380 milligrams of sodium, according to KFC. (Dan Kremer/KFC/AP Photo)
This thing looks like it should come with a bottle of Aspirin. You know, just in case you have a HEART ATTACK after consuming something like this! Don't menu items from national restaurant chains have to go through an approval process from the FDA (Food & Drug Administration)? If not, this is evidence right here that something like that needs to be done… asap!
What do you think about KFC's new "Double Down" chicken sandwich?
Be the first to receive breaking news alerts and more stories like this by subscribing to our mailing list.