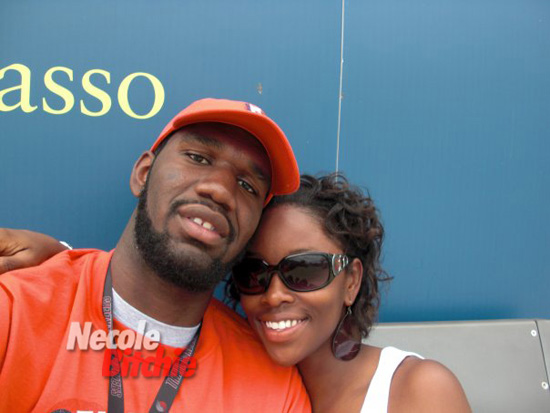 In recent days, there's been all kinds of chatter surrounding NBA baller Greg Oden and his umm……. "penial situation." In case you missed it, get the scoop here. We aren't sure why, but Greg's high school sweetheart Candyce Brown (now his ex girlfriend) decided to release her very own statement to try and do some "damage control" of her own on her Facebook page defending Greg:
Okay, let me just go ahead and clear the air and make my own fb public announcement bc I don't take too kindly to ppl talking mess and I'm not the type to keep my mouth closed when people are reckless, making up stories and assuming things! It's a shame innocent people have to suffer from the mistakes of others, which …I have, but it happens and that's life. You mess with shadey people and shadey things happen…you live and learn. Trust few! Fellas, stop messing with these bum ass (excuse my language) females and you wouldn't find yourself in messed up situations. Hoes are hoes and they can't be changed. Anyway, that's my homie and I'll always have love and that's terrible someone did him dirty like that. She will get hers! To all you HATERS hiding behind computers don't be mad bc his penis is rather large (so inappropriate, but yall obv saw the pics let's be real) and most importantly stop talking about me bc I had nothing to do with that madness! My loved ones, close friends and Greg all know the deal and they know my character and what I'm about so all this bs doesn't phase me, but it is rather annoying. I just don't want my reputation getting messed up bc of this…trying to be a business woman and all lol! This is the last time I'll speak on it…everyone can go on with your lives now. That is all. Oh, and to all the people saying I'm ugly…forget you I'm cute lol!

FOUND ON: NECOLE BITCHIE
We think that it's nice that she supports her boo, but does anyone mind telling us what her point was? We think we missed it…
Be the first to receive breaking news alerts and more stories like this by subscribing to our mailing list.