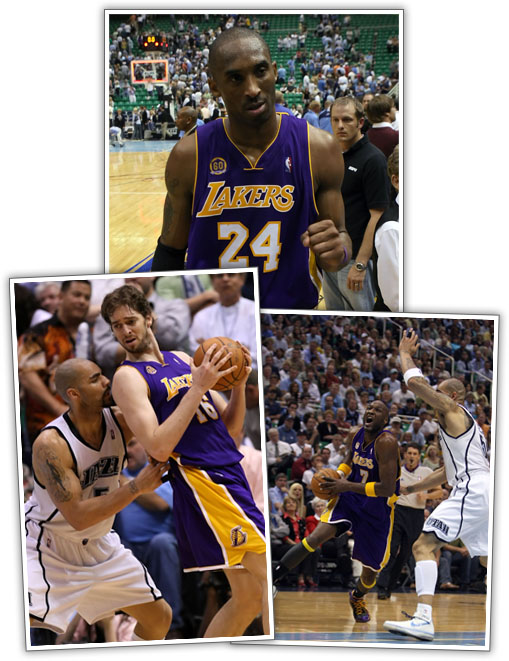 Kobe Bryant pushed it to the limit last night as usual!!! The Los Angeles Lakers won the last game of the series between the Utah Jazz (4-2) by 3 (108-105). Kobe Bryant was injured a few games back but could that stop him from getting closer to his ring WITHOUT Shaq…NOT PERIOD! K.B. scored 34 points, 8 rebounds and 6 assists. Pau Gasol totaled 17 points and 13 rebounds. Lamar Odom had 13 points, 9 rebounds and 3 assists. Kobe stated at the final game's end:
"It's a big step for us," Kobe said. "It shows a lot of character on our part to come in here and come out of here with a victory. It's been a great journey and we want to keep it rolling, it's a great accomplishment to get to the conference finals, but we believe we can accomplish much more."
The Lakers will play the team who wins the series of New Orleans Hornets Vs. San Antonio Spurs. I hope the Hornets' win. I can't wait to see Kobe and Chris on the same court!
Check out the video reaction from the Lakers'
Be the first to receive breaking news alerts and more stories like this by subscribing to our mailing list.