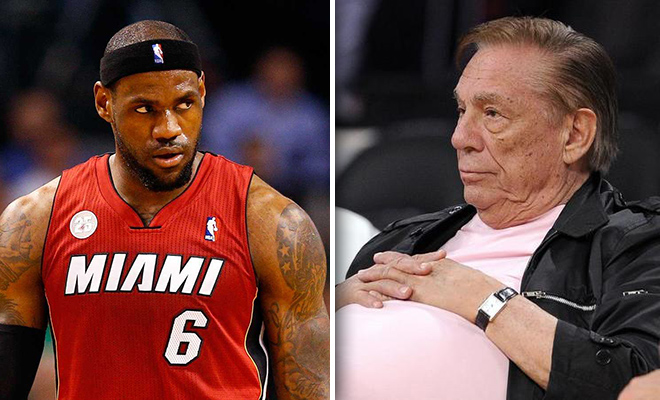 LeBron James is denying previous reports that suggested that the Miami Heat star would boycott the NBA during next year's 2014-15 season.
Earlier this week, in a trailer for an upcoming episode of "Jim Rowe of Showtime," the Vice President of the Players Association randomly discussed James' plans for next year if the racist owner of the Los Angeles Clippers — who claims he isn't a racist (hmph!) — remained an owner of the NBA team.
In the short clip, the Players Association VP Roger Mason Jr. made what All Hip Hop deemed a "declarative statement that could change the entire 2014-15 NBA season."
"I was just in the locker room, three or four days ago," Mason Jr. said. "Lebron and I talked about it. He ain't playing if Sterling is still an owner."
Though LeBron James is under a 6-year contract with the Heat worth $109.84, which he signed in 2010 with over $67 million guaranteed, there's a clause in his contract that would allow him to leave the team whenever he pleases and be a free agent by the June 30th deadline.
So him opting out of playing for an entire season for "the cause" would certainly be a big deal … but unfortunately, Bron-Bron isn't ready for that type of "revolution," and we honestly don't blame him.
This past Wednesday night (May 14) before LeBron and his team eliminated the Brooklyn Nets from the 2014 NBA Playoffs, James talked to ESPN about Mason Jr's statement:
"Roger comes in here, we speak about issues. I believe that issue came up but, as a team, we never discussed it. Roger is a great guy and I don't have a problem with him at all."
For his part, Roger addressed his comments on his Twitter page, admitting to being unclear on the boycott news:
Jim Rome is a good guy and I may not have been clear when I responded to his question, so let me clear it up.

— Roger Mason Jr (@MoneyMase) May 14, 2014
Jim asked me about guys playing next season if Sterling remained an owner. I mentioned I spoke to LBJ as I speak to many players.

— Roger Mason Jr (@MoneyMase) May 14, 2014
My bad if I was not clear.LBJ never said anything about boycotting.He's a friend and I would never want to imply something he didn't say

— Roger Mason Jr (@MoneyMase) May 14, 2014